Hi! It's me, Joris.
It looks like I've linked you here myself. Linking people to a blogpost I wrote is often a bit akward, especially at work.
I likely shared this blog in an attempt to further a conversation. Usually the post does a better job at succinctly sharing information than I could by talking.
In any case, I hope me sharing this post doesn't come across as humblebragging, that's really the opposite of what I'm trying to achieve.
Thanks for reading!
Project Mini Sauna
Building a small infrared sauna from scratch
TLDR: I built a small 1 person infrared sauna from scratch. This post describes the design and build process and some of the things I learned. Lots of pictures along the way!
Ever since I was a kid, I've enjoyed saunas. For most of my life though, saunas have been holiday pleasures at hotels and rental homes. That was until my parents got themselves an infrared (IR) sauna a few years back.
Since then, I've been pondering about buying one myself. After long deliberation, I decided to build one instead.
A quick primer on infrared saunas
Infrared saunas supposedly have all sorts of additional health benefits compared to traditional saunas, but for me the 2 main reasons I think they're better for regular at-home use than traditional Finnish saunas:
Not as hot: Infrared saunas usually operate at 50-70°C with sessions lasting 30-60min, as opposed to Finnish saunas which typically operate at 75-95°C with sessions of 15-30min. This means that in an infrared sauna you can actually take your time and e.g. read a book.
Less hassle: they warm up and cool down faster and are cheaper and safer to operate.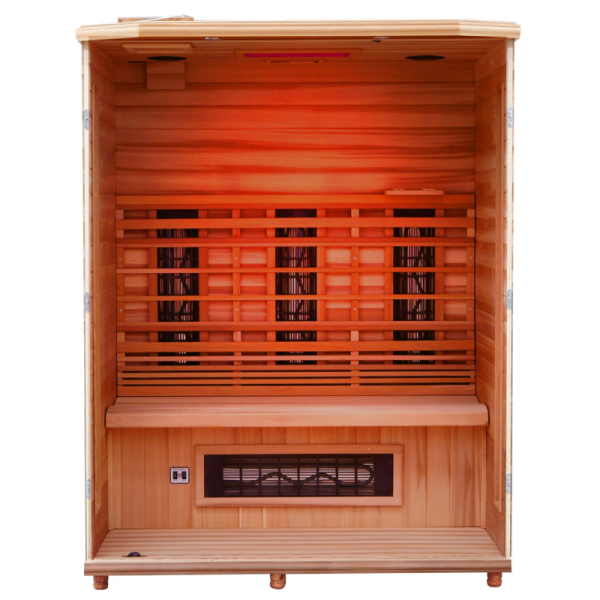 Infrared heaters: not all are the same
There are many different types of infrared heaters, some will emit visible light but most don't. The choice of infrared heater is significant because it determines how you'll be using your infrared sauna.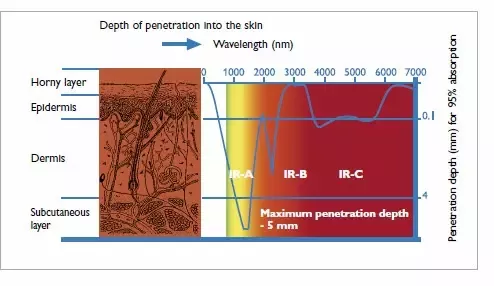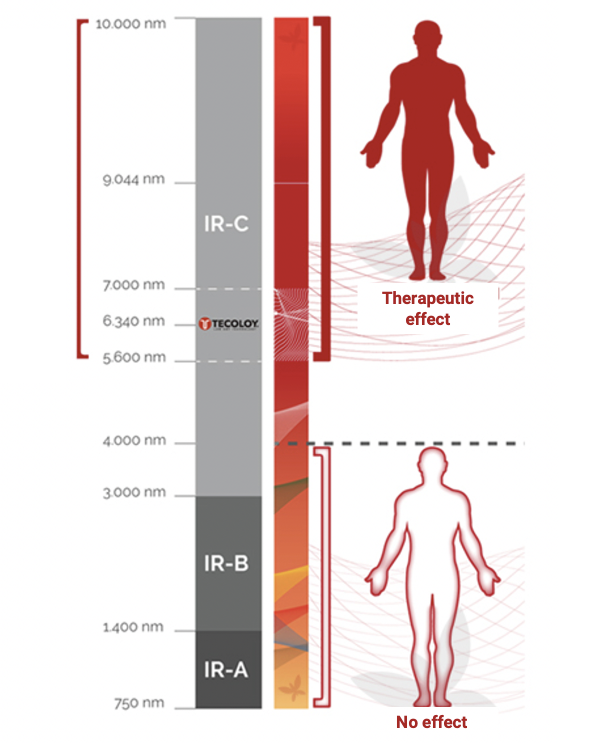 Saunas with near-infrared (IR-A) or short-wavelength infrared (IR-B) heaters should only be used for short 10-15 min sessions since at that wavelength the infrared light will penetrate deep into your body. Using them for longer is not healthy. These infrared heaters are mostly meant for short therapeutic sessions and in some countries only allowed to be used under professional supervision.

Conversely, long-wave length infrared (IR-C) heaters almost don't penetrate into the body at all, so these have little therapeutic value and can be used for pretty much as long as you want for relaxation purposes.
However, no IR heaters really emit "only" short-, mid- or long-wave IR. Instead they emit the entire range of IR light but with majority of their wavelengths being either short-, mid- or long-wave depending on the materials and construction of the IR heater.
So-called "full-spectrum" heaters emit more of an even mix of infrared light, trying to balance therapeutic with relaxation effects. This balance is where a lot of different manufacturers try to differentiate themselves by advertising their unique patented metal alloys that emit the perfect and most healthy combination of IR light.
👨‍✈️ Captain Obvious speaking:
I'm not an expert. Make sure you do your own research before buying any infrared heater.
Buy vs. Build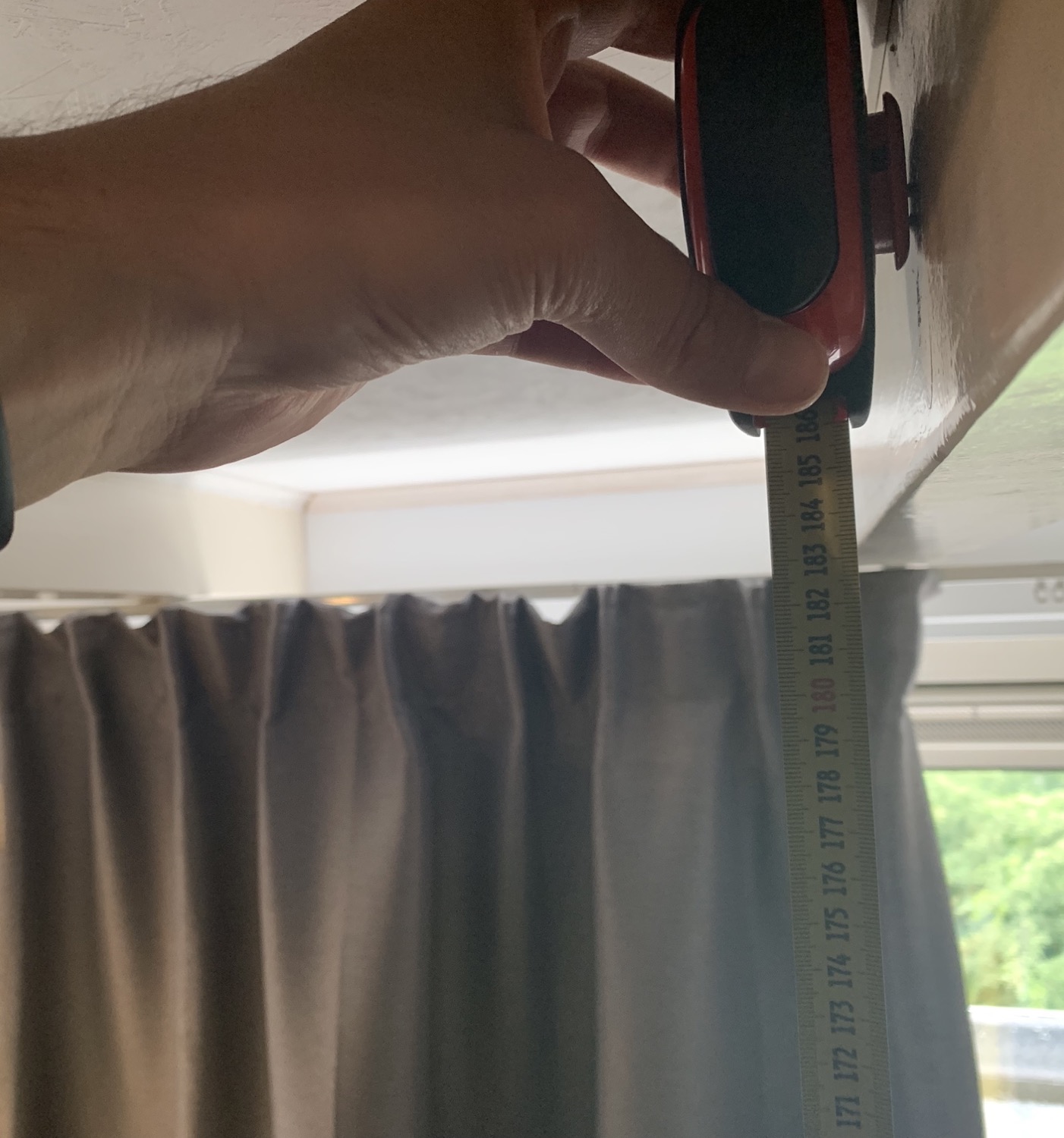 About 3 years ago, I started thinking more seriously about getting an infrared sauna. What became clear pretty quickly though, is that finding a good spot to put it was going to be a challenge.
For reference, a 1 person infrared sauna takes up ~2m2 of floor space (=1m2 sauna footprint + 1m2 swing of the door) and is about 2m tall. Most home infrared saunas are also "portable": they are made of a few pre-fabricated panels that you assemble at home and can disassemble if you want to move the sauna. This is something I definitely wanted: when we move house in the future, I want to take the sauna with me.
While 2m2 doesn't sound like that much, our home isn't that big and you obviously want to put it somewhere where it doesn't look completely out of place (kitchen sauna, anyone? 🙃).
So after considering every room and even the garden, we decided that our attic was probably the best location. However, this decision created a new set of problems: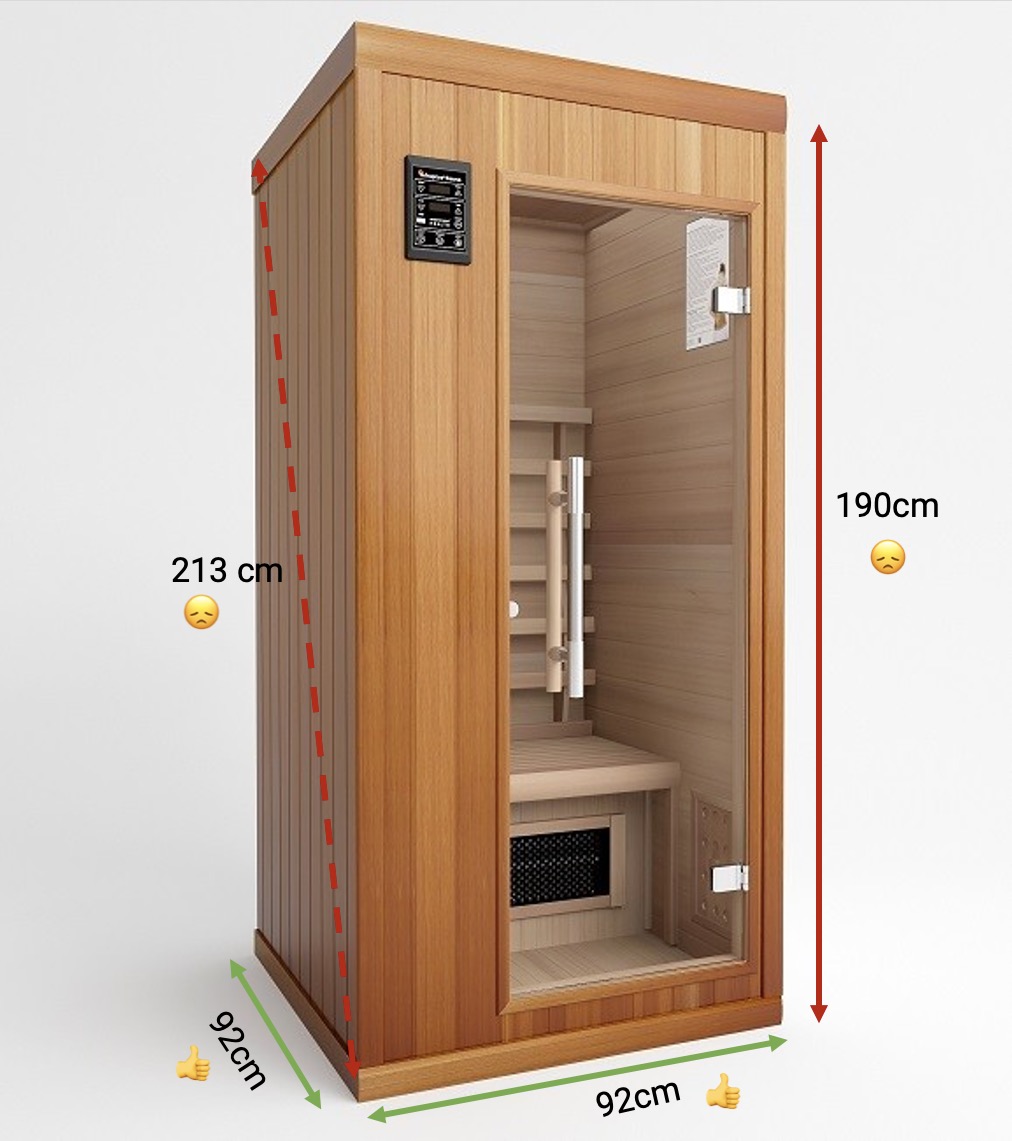 Our attic ceiling is only about 190cm high: Not high enough for most standard pre-fab saunas (incl. some ceiling clearing).

The staircase to the attic is relatively steep and narrow: Standard pre-fab sauna panels might not fit through the staircase. This is one of those things which despite what the manufacturer says, you won't know for sure until you try it. And of course, at that point you've already committed.
This made a strong case for a custom build using smaller panels. While I could've had this done by a professional sauna manufacturer, I decided to build it myself because:
It sounded like a fun challenge, one in which I could hone my woodworking skills
It would be easy to integrate home-automation along the way
I didn't want to deal with all the back-and-forth design meetings/calls
It would probably be cheaper and I wouldn't wonder afterwards whether I overpaid
Ok. So how to start?
The Plan
One thing I've learned is to not get caught up in Analysis-Paralysis by spending forever doing research trying to come up with the "perfect project plan". Instead, I prefer to just to have a rough plan, get started and to think 2 steps ahead during the downtime I'm not actively working on the project.
That's what I did here as well.
My rough plan
Put together a very simple design in CAD to understand the construction better
Buy a single infrared heater and try it out, learn how it works
Build the wooden frame, ensure it fits through the attic staircase
Figure out wood paneling, wall insulation
Build the walls (= frame + insulation + paneling)
Build a floor, door, roof and bench
Put it all together
Install electronics and home-automation
In the remainder of this post, we'll walk through all these steps in more detail, except for the home automation part which I'll cover in a future post.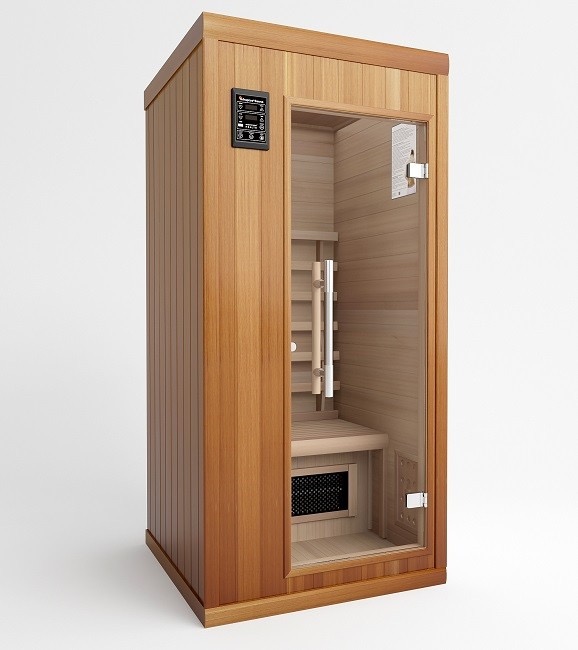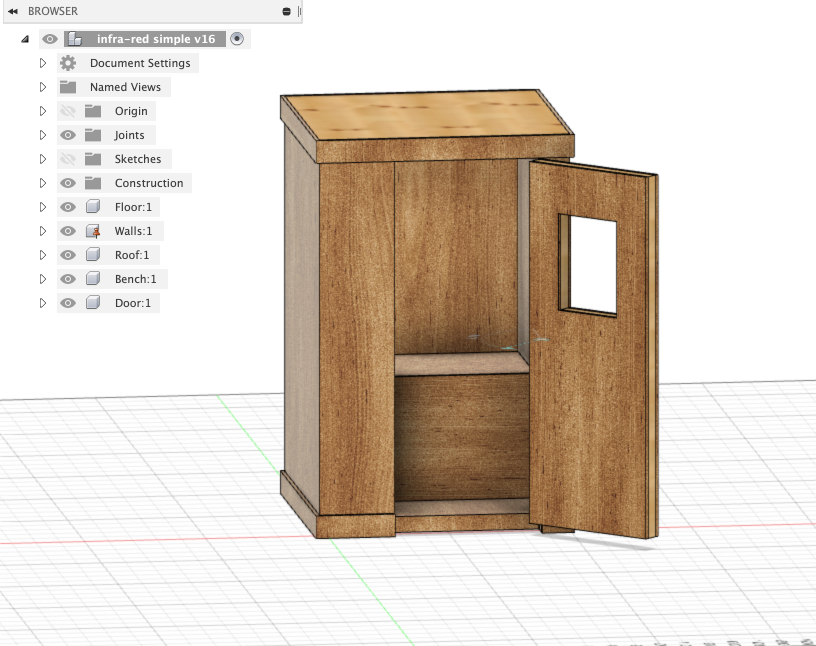 Infrared heaters and wood frame
As mentioned before: there are a lot of different types of infrared heaters out there - it's very easy to get lost trying to find the best heater.
With my primary use-case being relaxation and knowing that at worst I'd lose about 150 EUR, I decided to just try something. I bought the InfraMagic VWS 650 ML, a 650 watt IR-C (=long-wave) heater and wired it up. Wiring an IR heater is the same as wiring a lamp: just connecting live, neutral and ground wires. When you turn on the power it starts emitting heat, stops when you turn it off. Easy!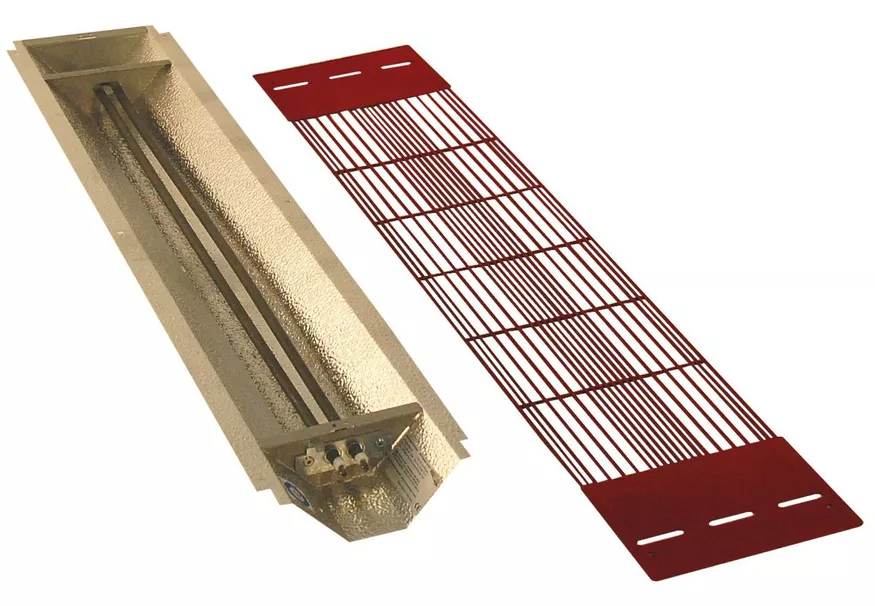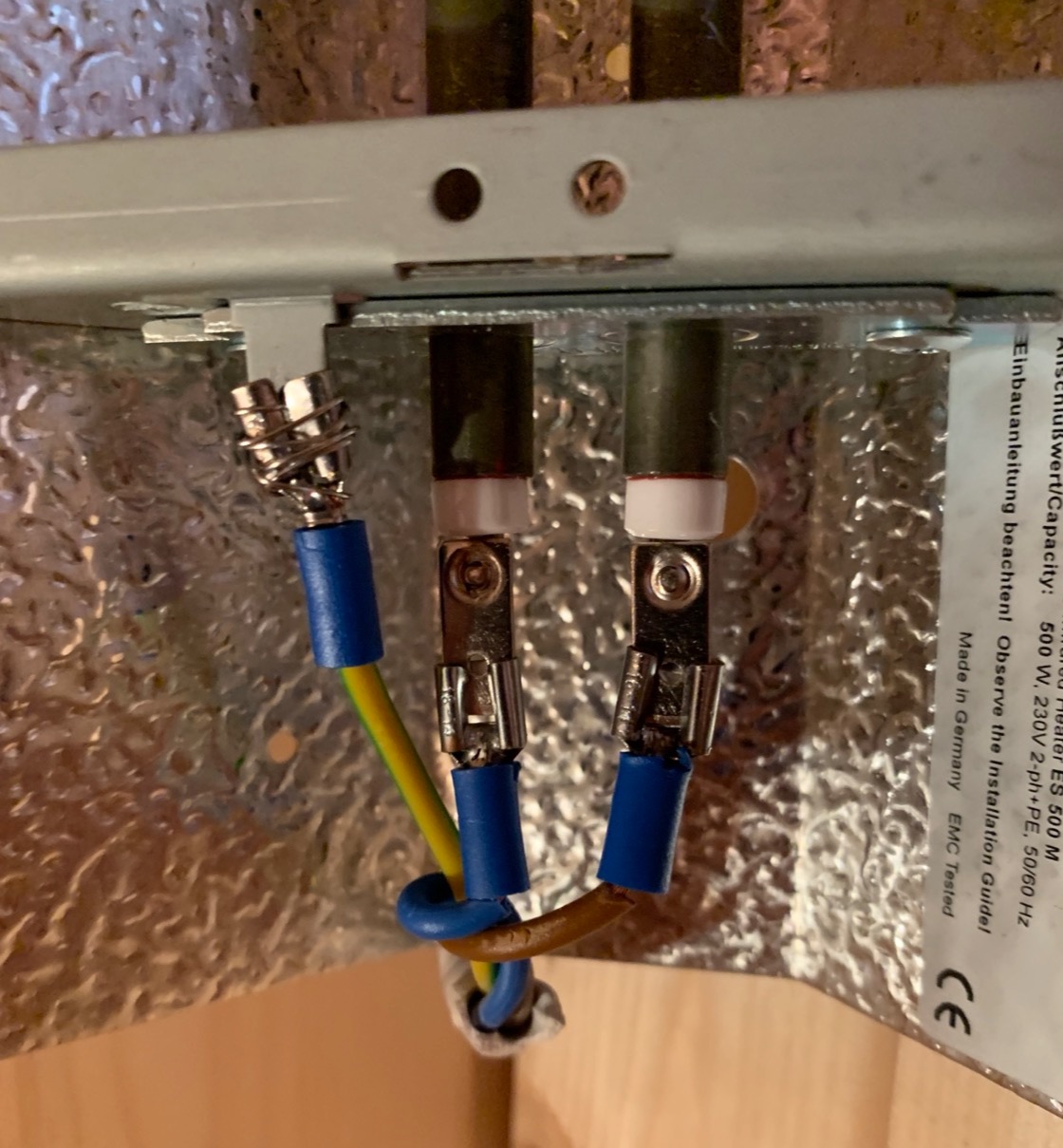 After confirming this worked, I decided to use this heater as the main sauna heater, i.e. the one heating my back. Since most 1 person IR saunas have 3 heaters in total (1 back, 1 legs, 1 front), I also bought 2 additional - slightly less powerful - InfraMagic heaters (VWS 500 model) for that purpose.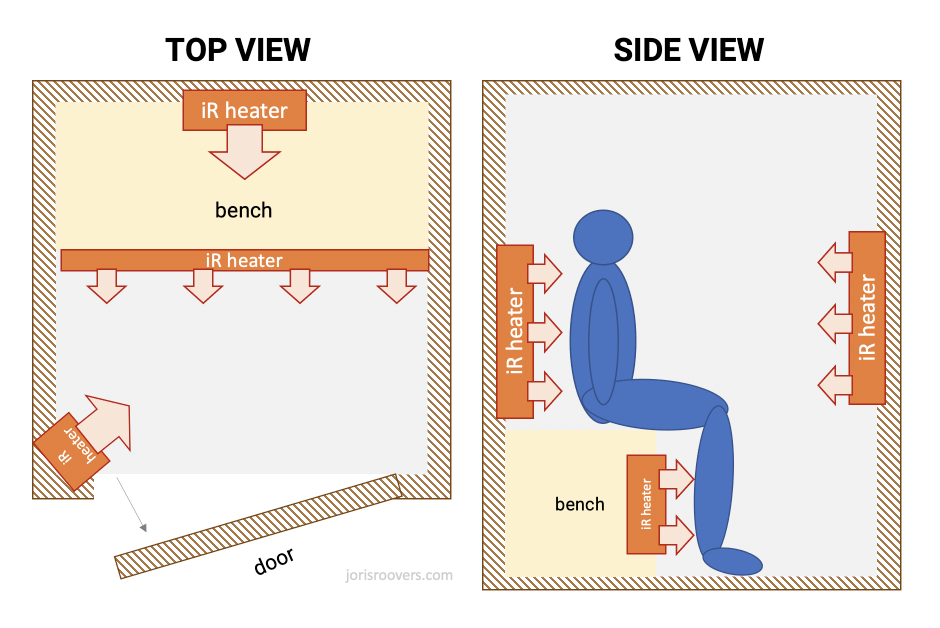 I figured the next step was creating the back wall frame and fitting the 650 watt heater in it; so that's what I did. All the frames are really just pine lumber (48x22mm) screwed together. Completing this frame felt really good as it it marked the first real build step after considering it for years.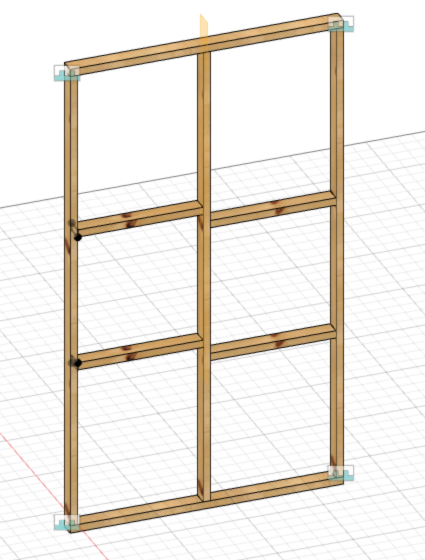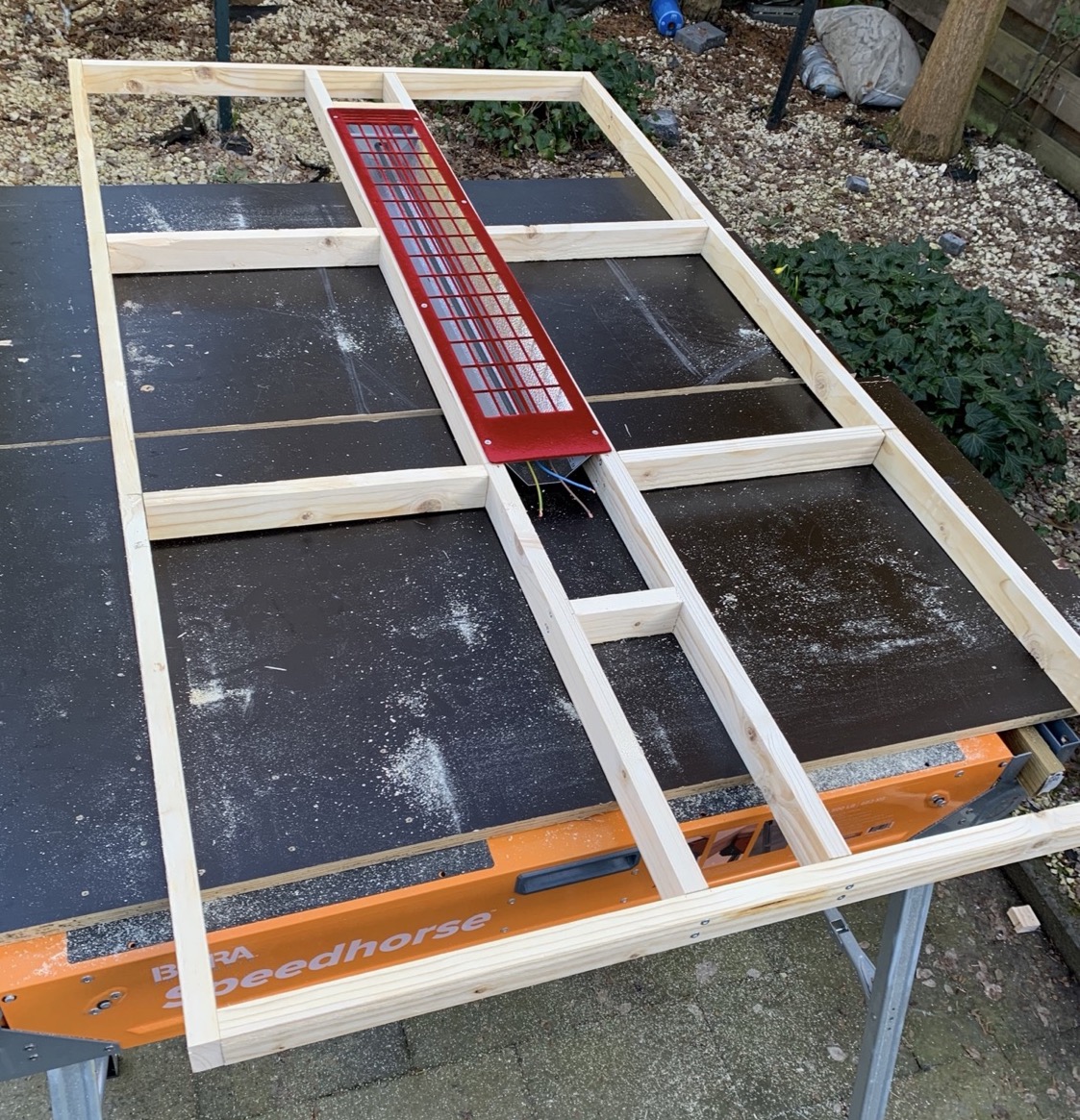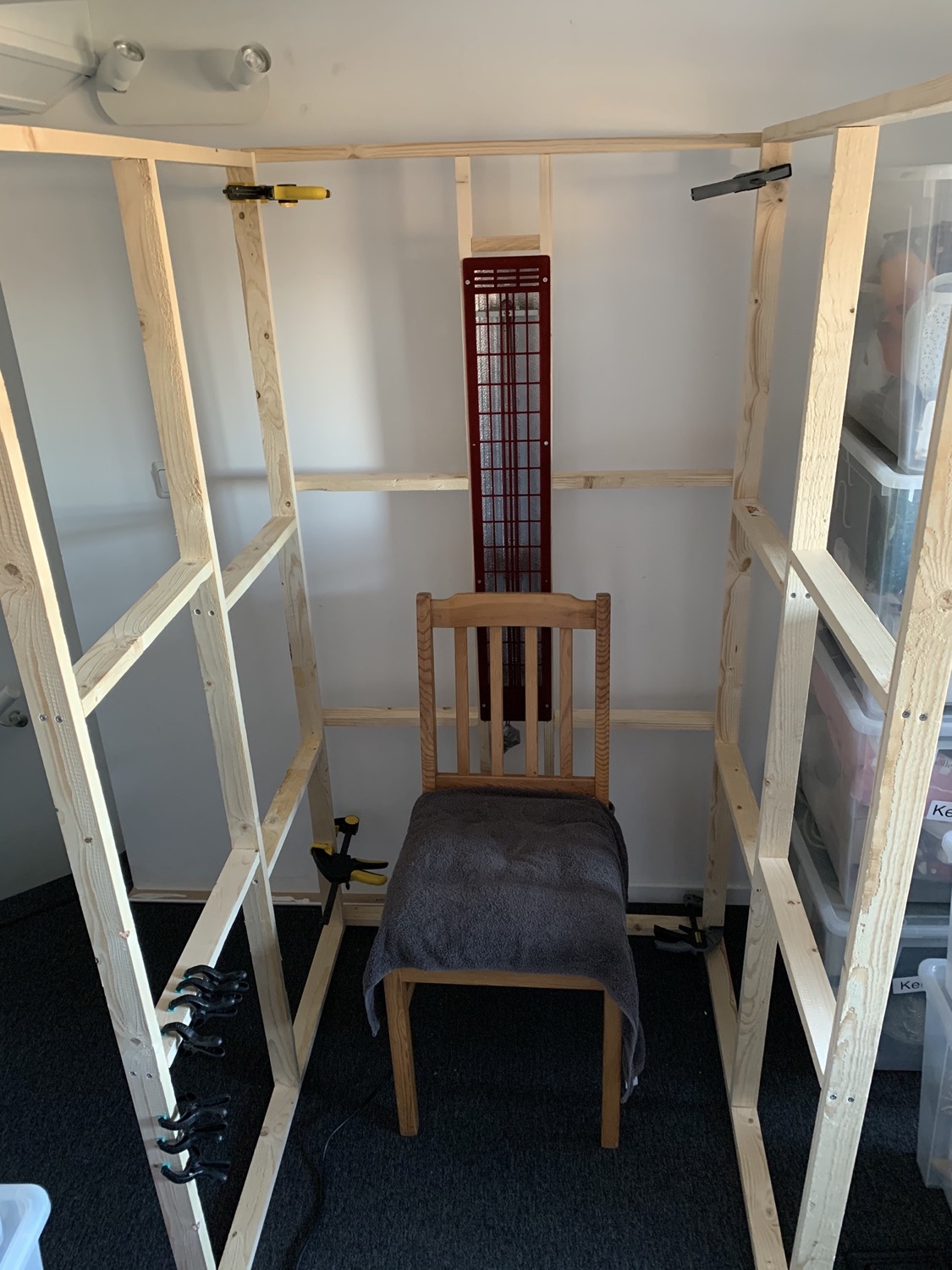 Next up: adding wood panels to the frames!
Wood paneling and insulation
The choice of sauna wood panelling is an important one: not only does it determine the look of your sauna, wood panelling is also the largest material cost in a sauna. If you want a premium reddish wood paneling, then Red Cedar is the way to go. Most other options are lighter in color ("white"), like Nordic spruce (often called Nordic Fichte), Hemlock or Aspen.
What's important is that you don't just buy paneling at your local DIY store, but instead purchase it from a specialized distributor. Sauna panelling has to be particularly dry and chemically untreated to withstand the heat and large temperature differences. With regular wood panels you risk cracks, moisture damage and unhealthy or bad smelling vapors.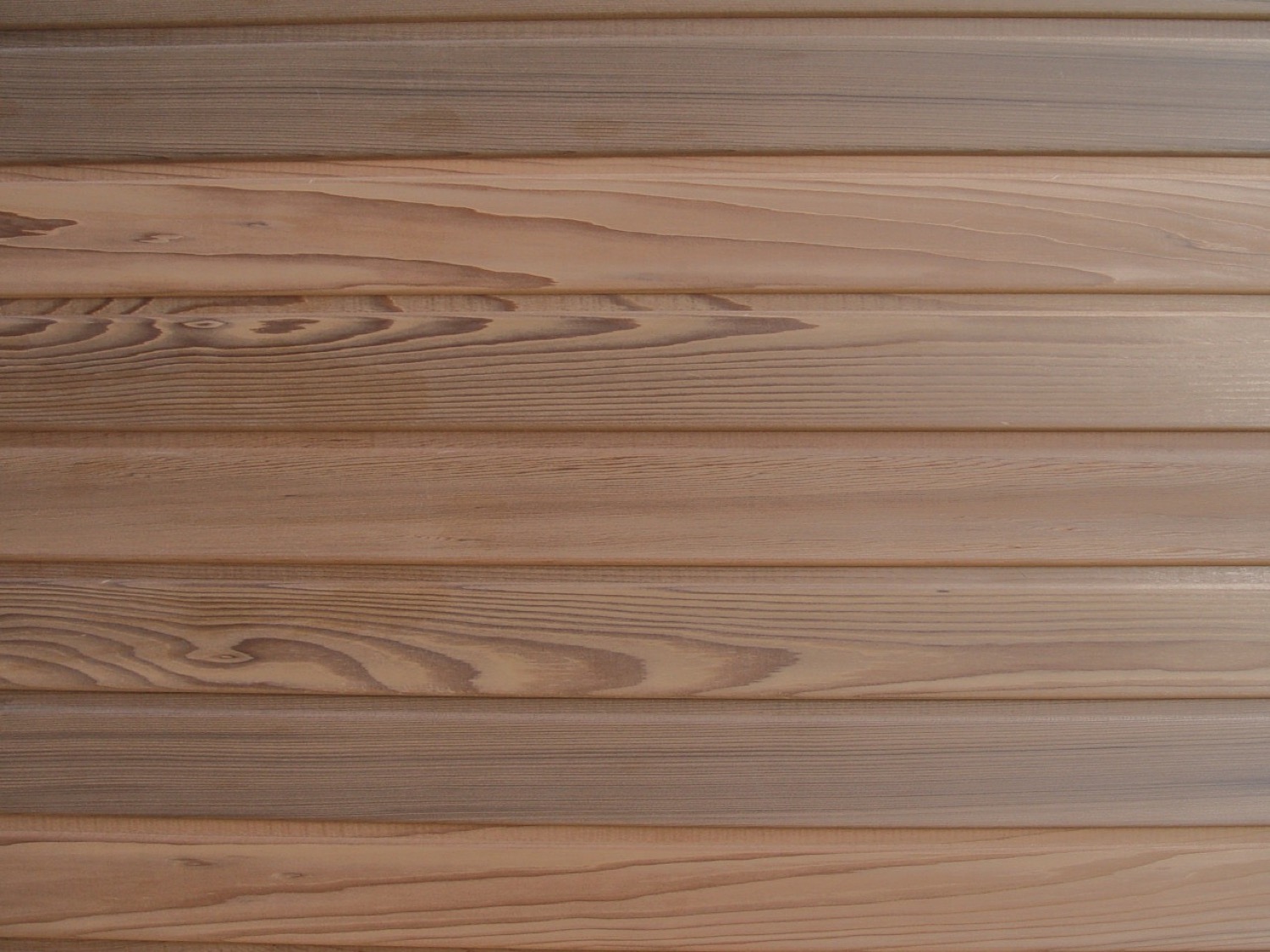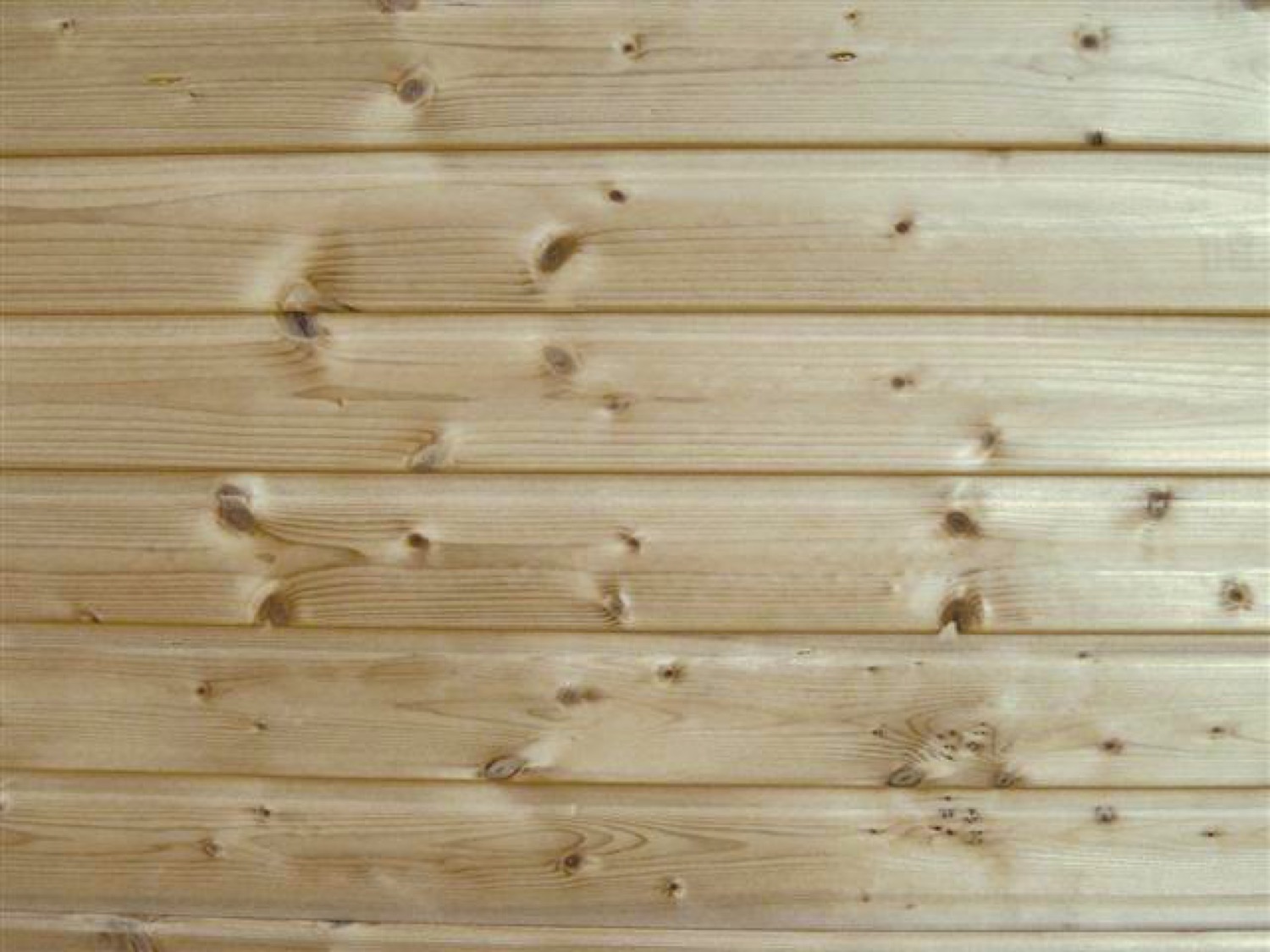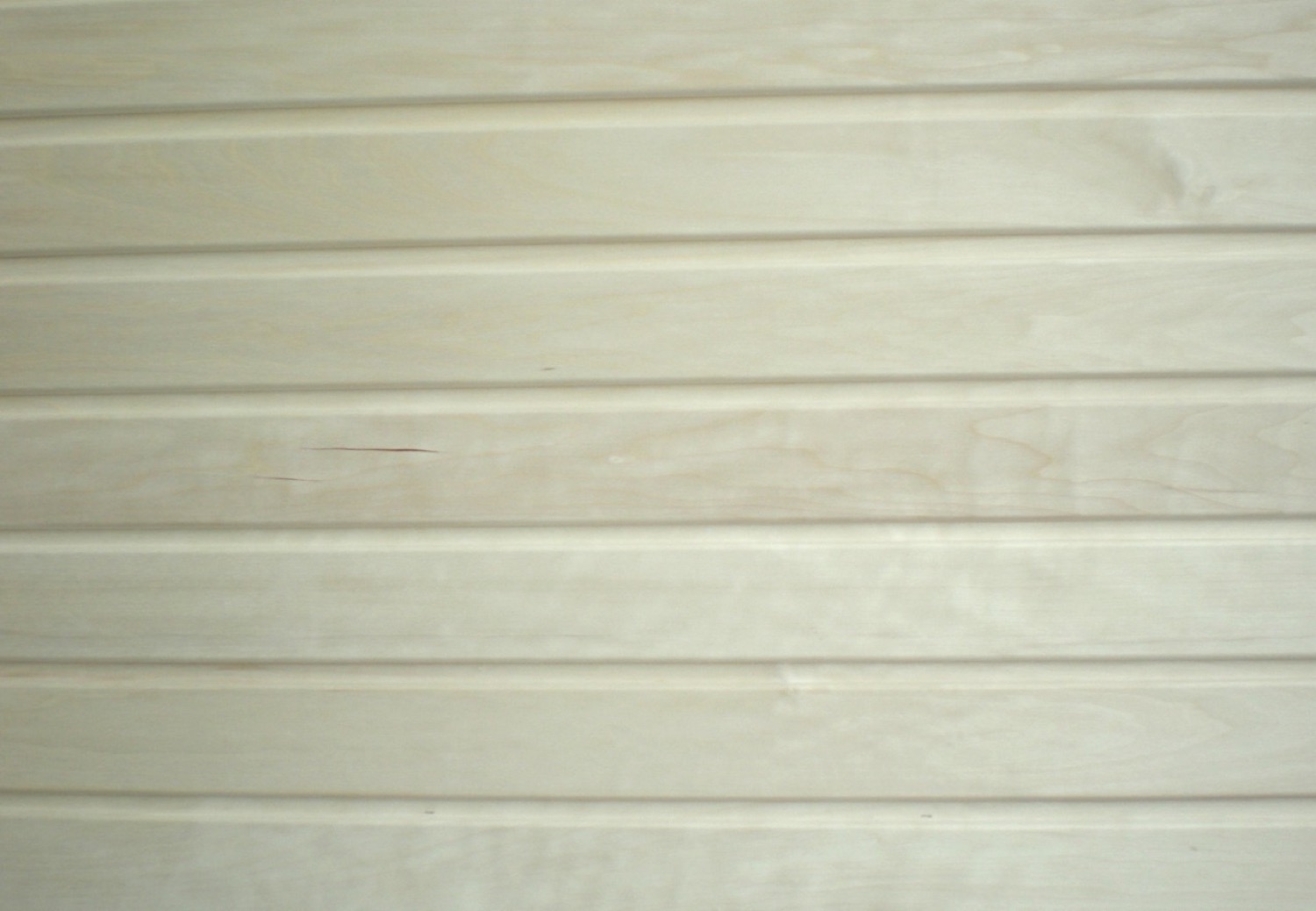 I initially wanted to go for Red Cedar for its look but discovered that the price per plank was often 5x the price of Nordic Fichte. This surprised me, since the price difference between Red Cedar and other panelling in pre-built saunas is significant but not nearly as big. I attribute this mostly to retail vs. wholesale pricing and economies of scale (e.g. I ended up with an estimated 20% scrap I couldn't use for anything else).
While I might have found a better price for Red Cedar panelling by contacting wholesalers directly, I really didn't want to go through that hassle knowing the price difference would still be significant. Seeing that the retail price difference between various mid-range wood types was still 3x compared to Nordic Fichte, I decided to just go for the "cheap" Nordic Fichte to alleviate any self-imposed pressure of working with more expensive wood.
Attaching the wood panels was straightforward: just fitting together the planks using their tongue and groove sides and then nailing each plank to the frame at the top and bottom. Before that, I also added a vapor barrier on each side of the frame and put glass wool insulation material in between. This ensures minimal heat-loss when the sauna is operating.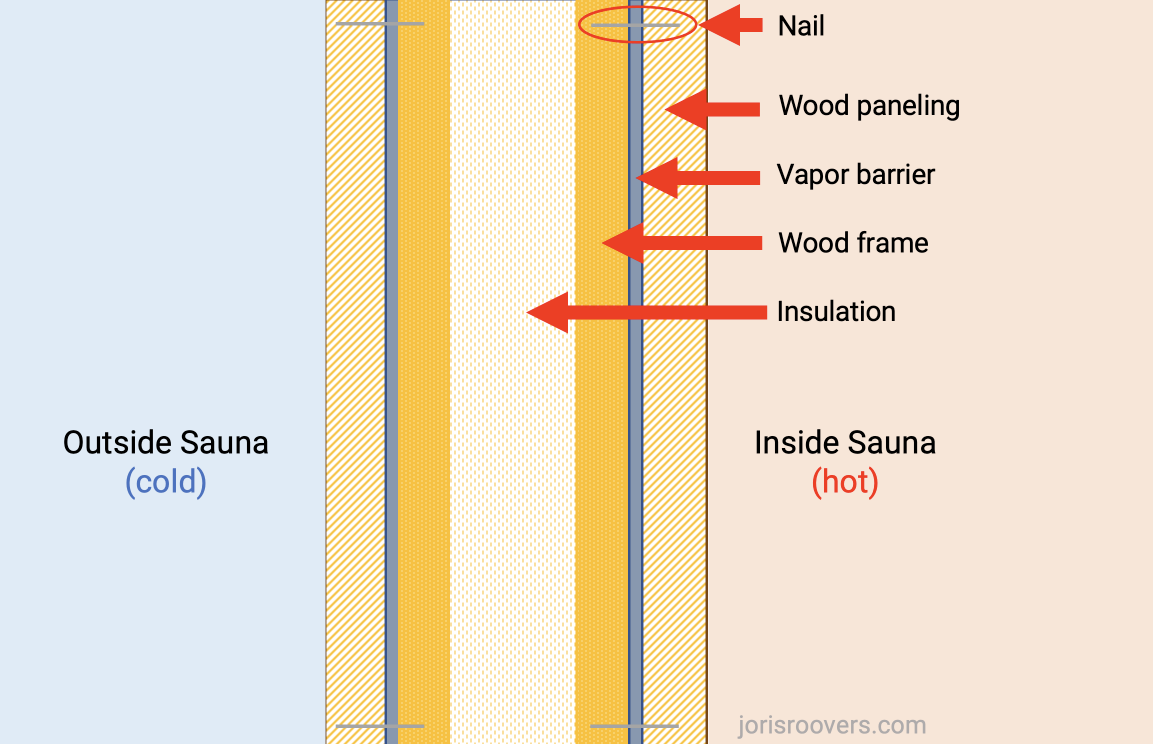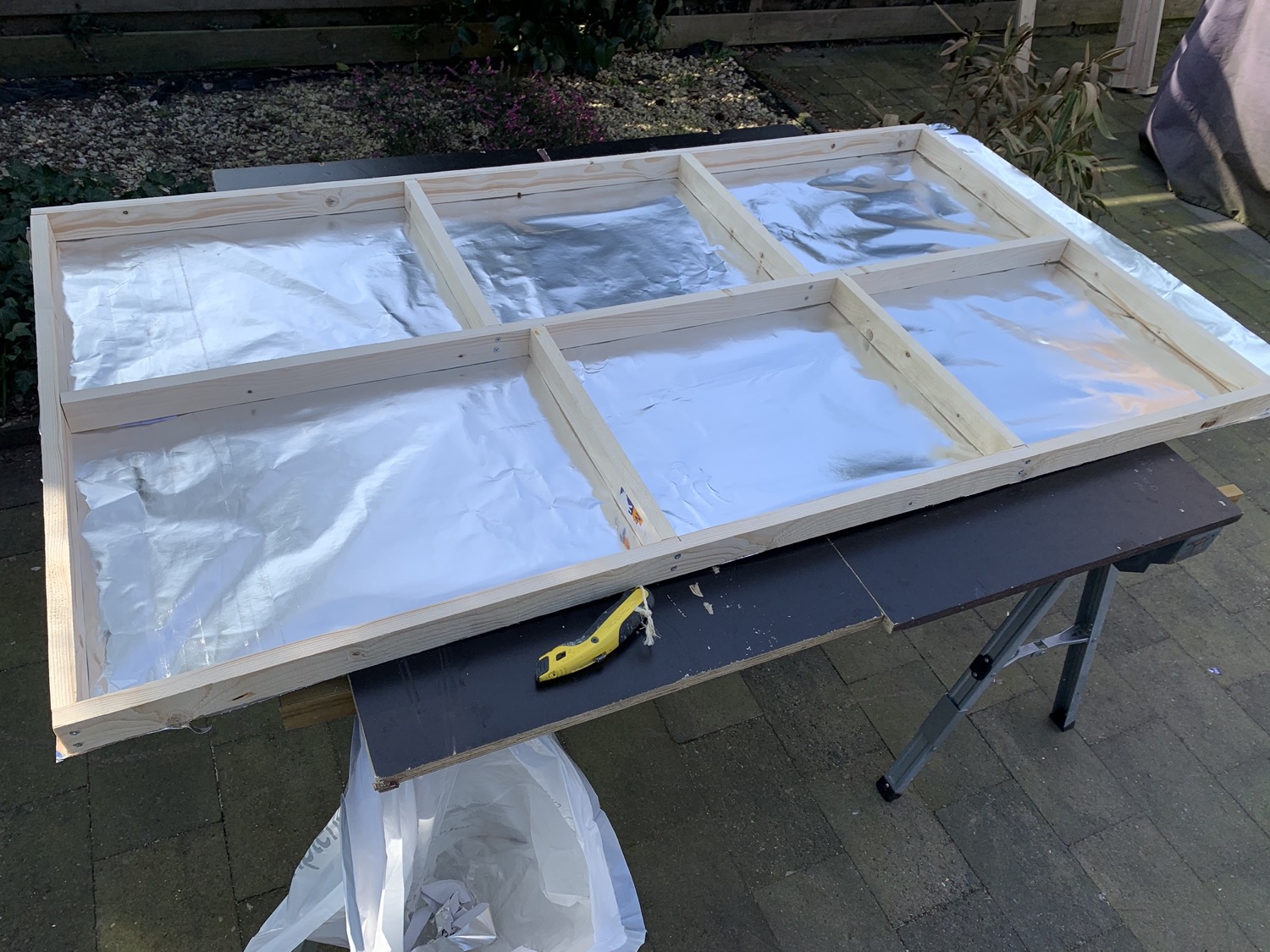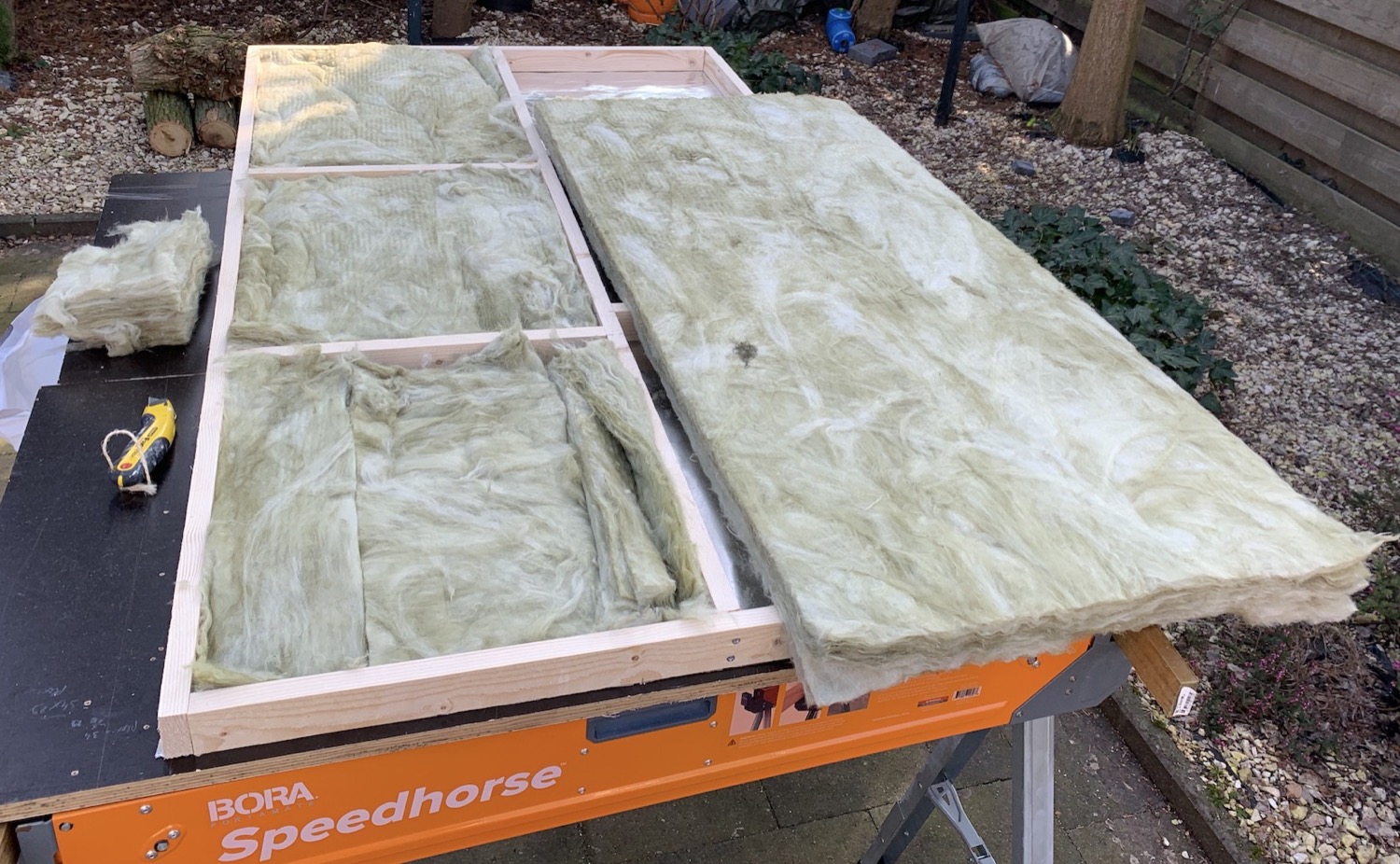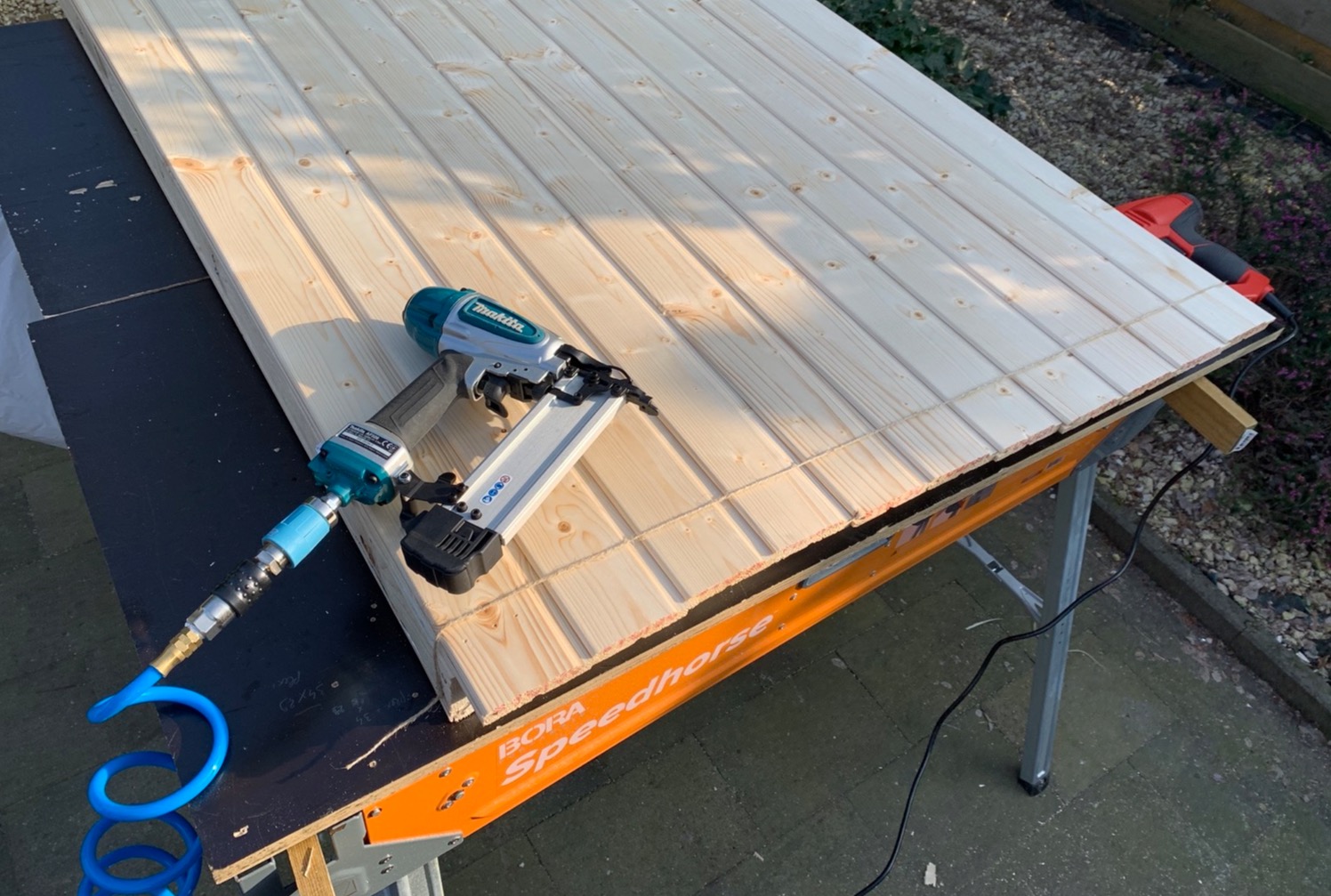 Building the walls
Building the 4 sauna walls is really just combining the steps already described: building a frame, adding insulation and vapor barriers, and then nailing the wood panelling to the frame. I also added wood trim to each wall to hide the nails that hold down the wood panelling.
However, only the right sidewall followed this exact pattern. Both the left and back walls additionally required electric conduit to be inserted in the walls for the infrared heater wiring. The back wall also required some additional jigsaw work to allow the infrared heater to fit. The front wall required a different frame with a big opening in the middle for the door.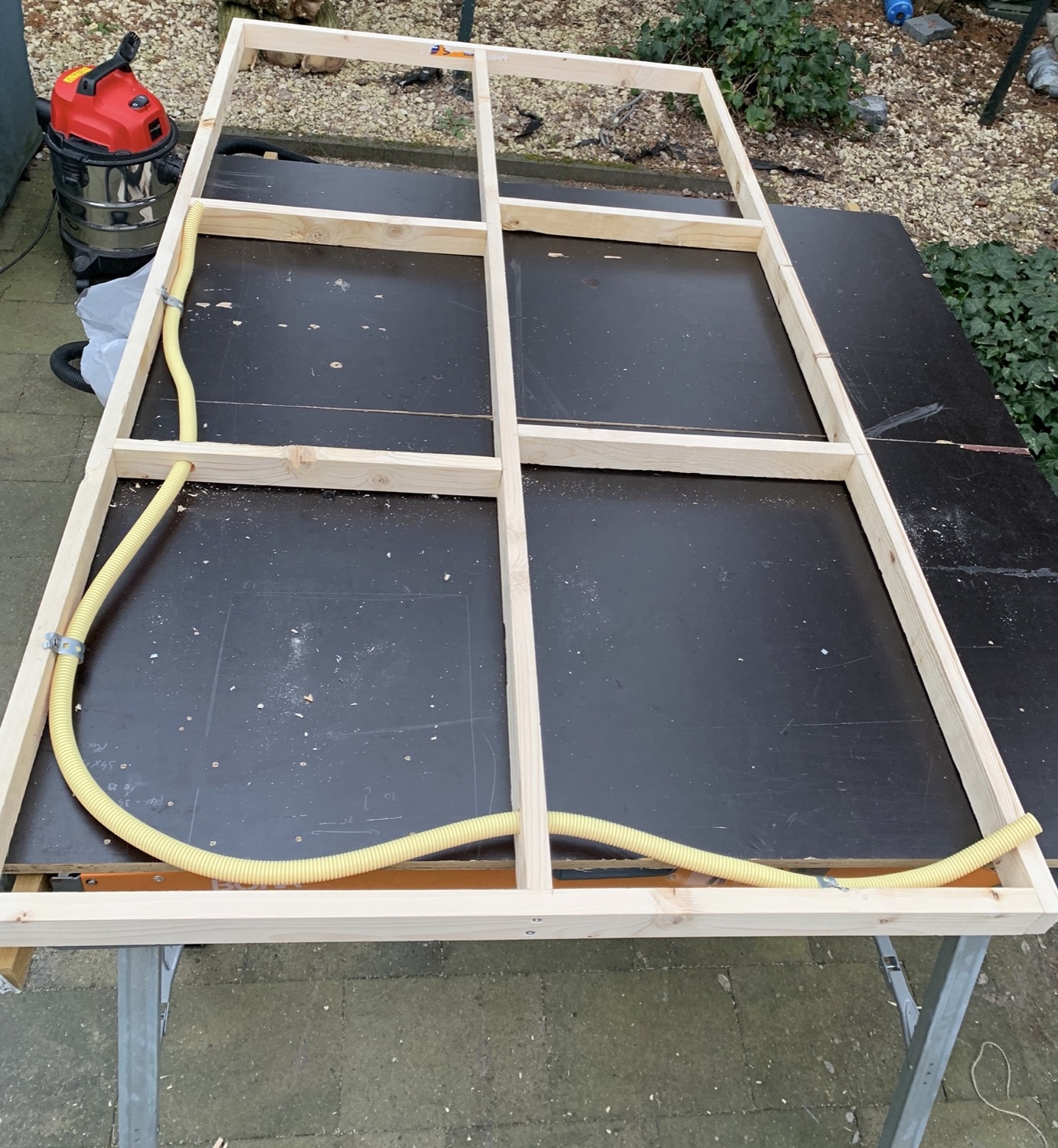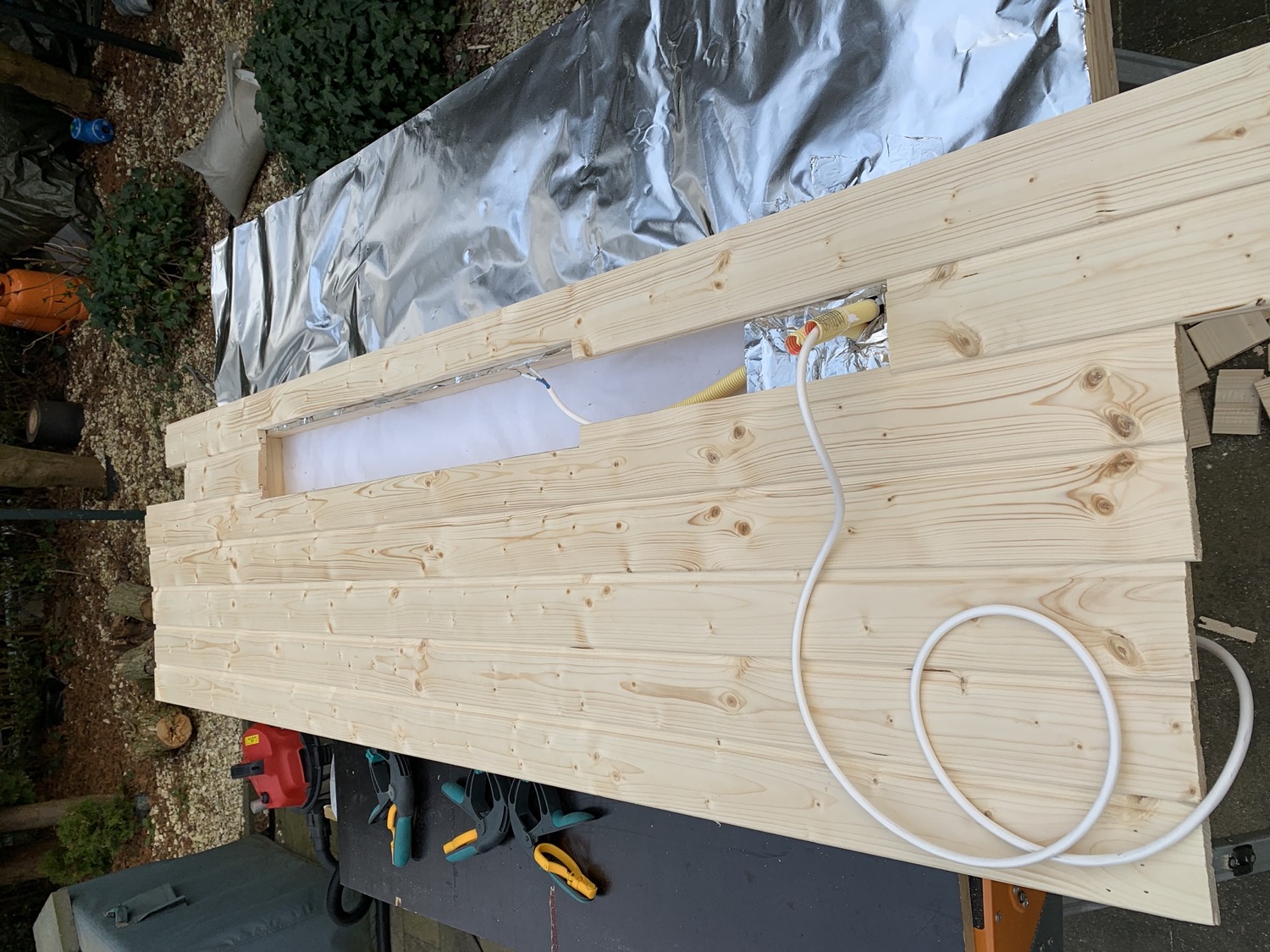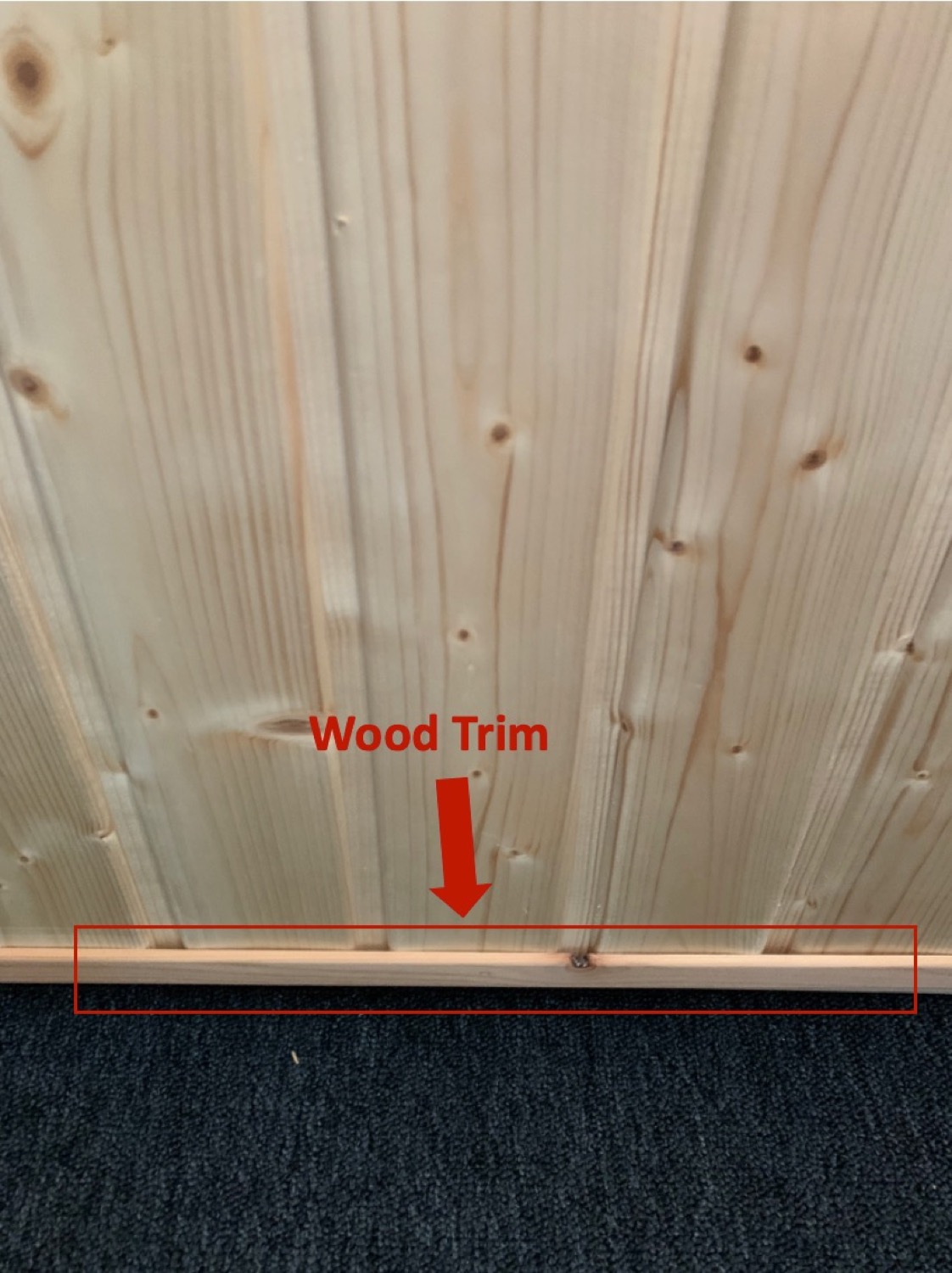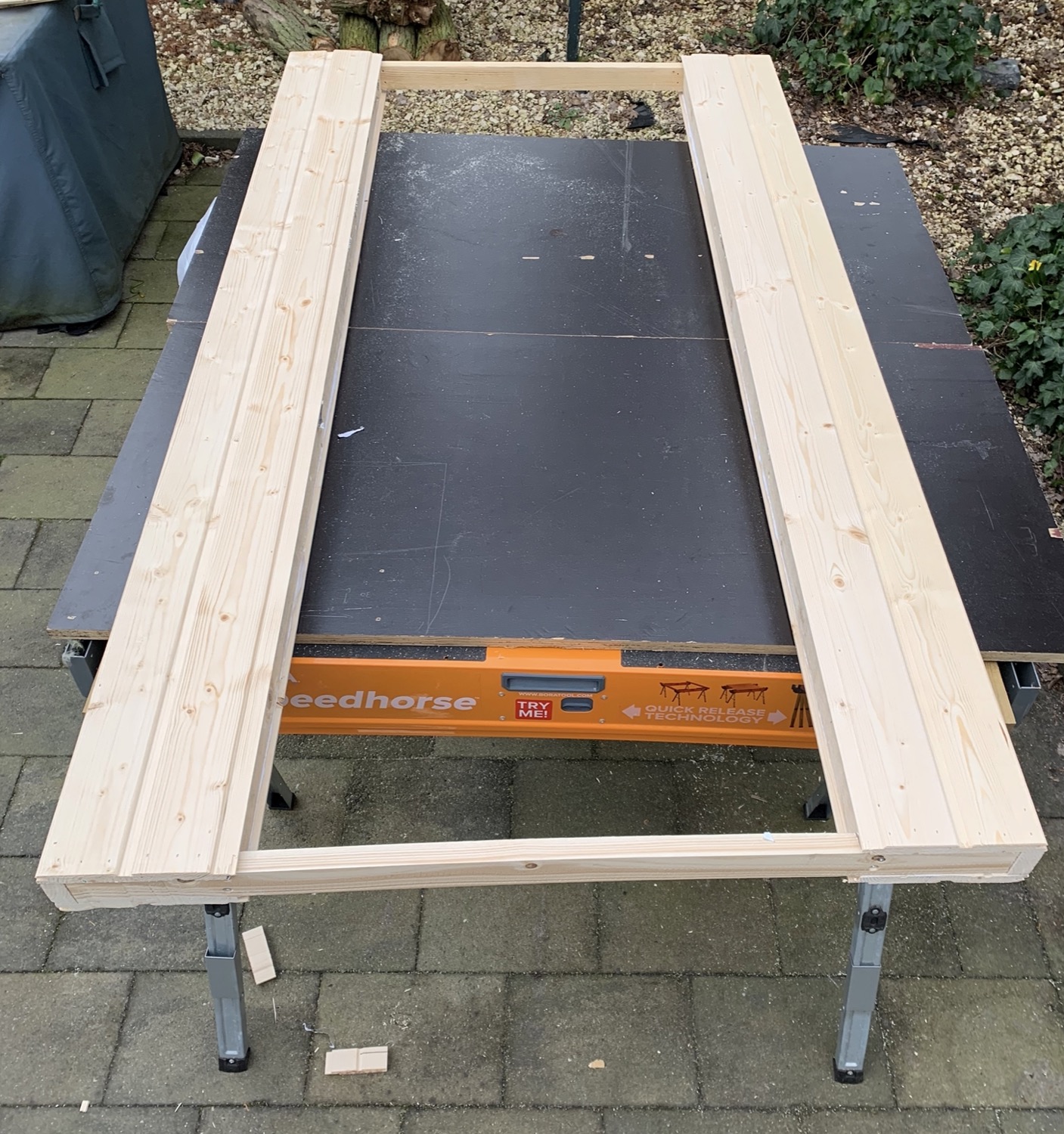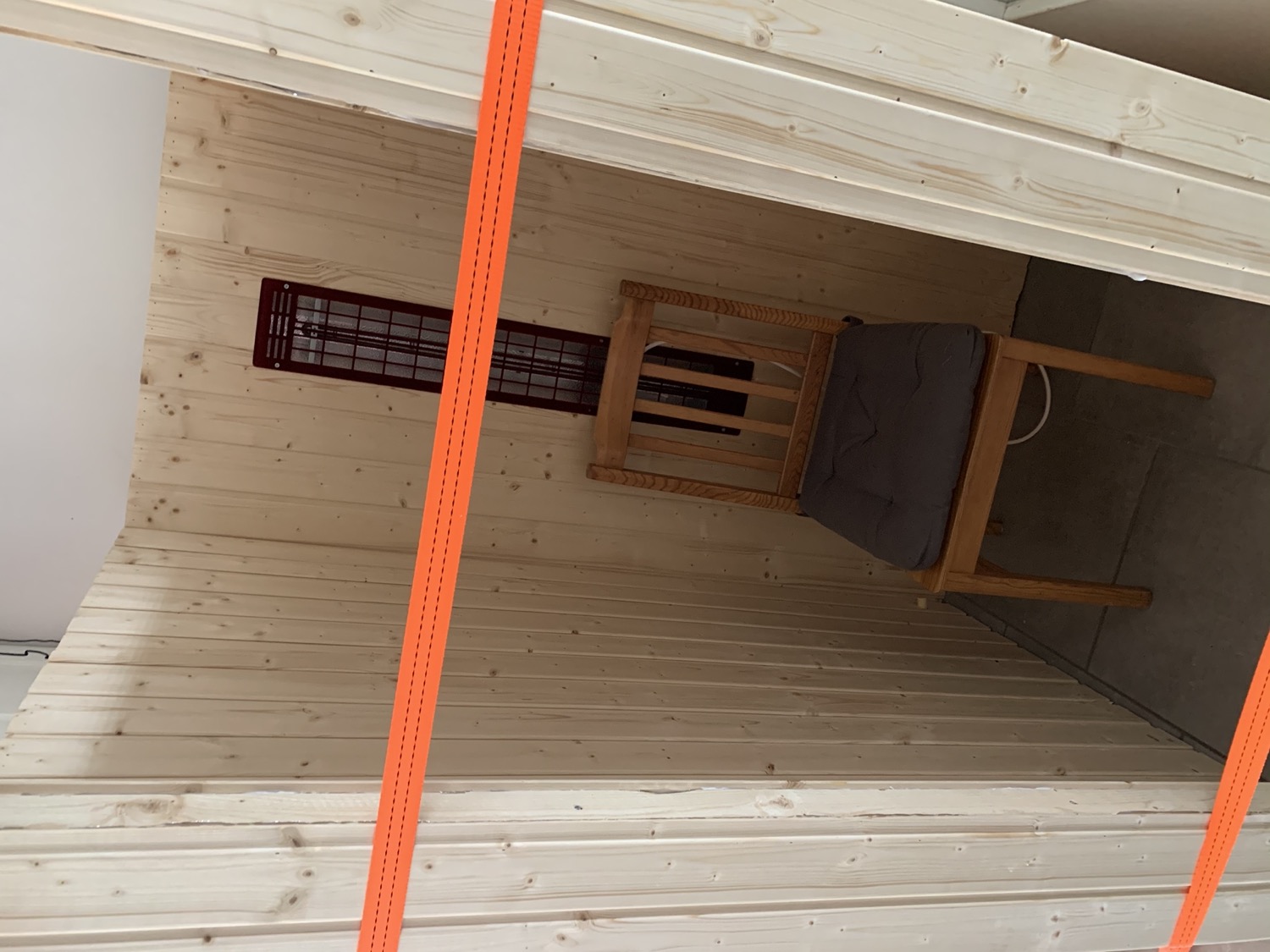 Build a floor, roof, door and bench
With the 4 walls finished, my focus turned towards the remaining wooden parts of the sauna.
The door 🚪
Out of those, the door definitely gave me most challenges.
First off, I wanted the fit to be fairly tight so the gaps between the door and its frame were small enough to avoid a lot of heat escaping. This also allowed me to avoid the need for an additional sealer strip in the door. This required careful measurement and a few test fits.
Secondly, I wanted to add a small window in the door using an acrylic (plexiglass) sheet. This is where the combination of using cheap framing wood (i.e. not 100% straight) and the lack of woodworking experience and tools/jigs bit me. While the window looks rectangular, the corners definitely aren't 100% square. This made it very hard to get the window trim right, without any gaps. After having to start over and spending almost an entire afternoon on just getting the window fitted, I decided it was good enough. Maybe I'll revisit the window trim in the future 🤷‍♂️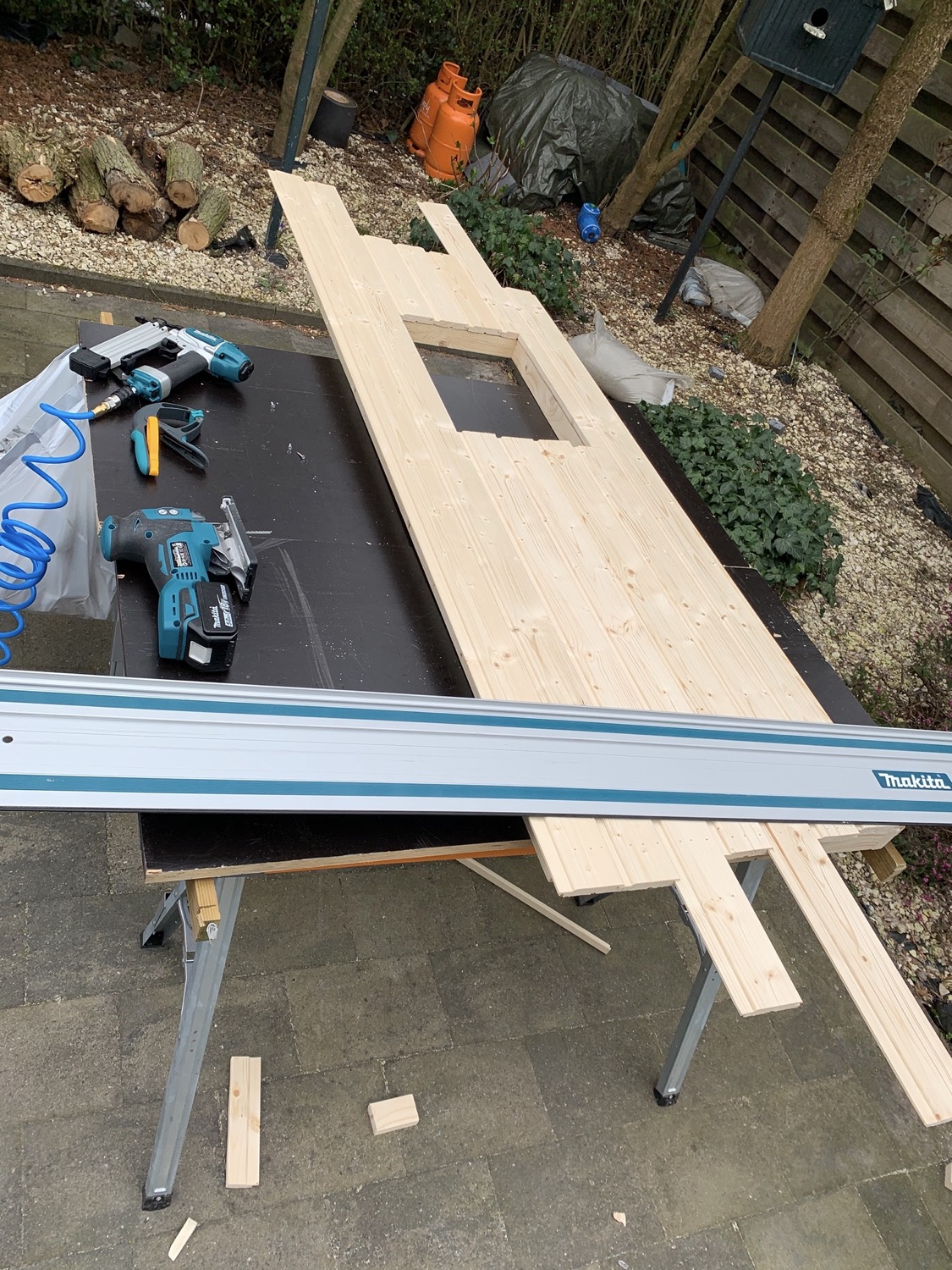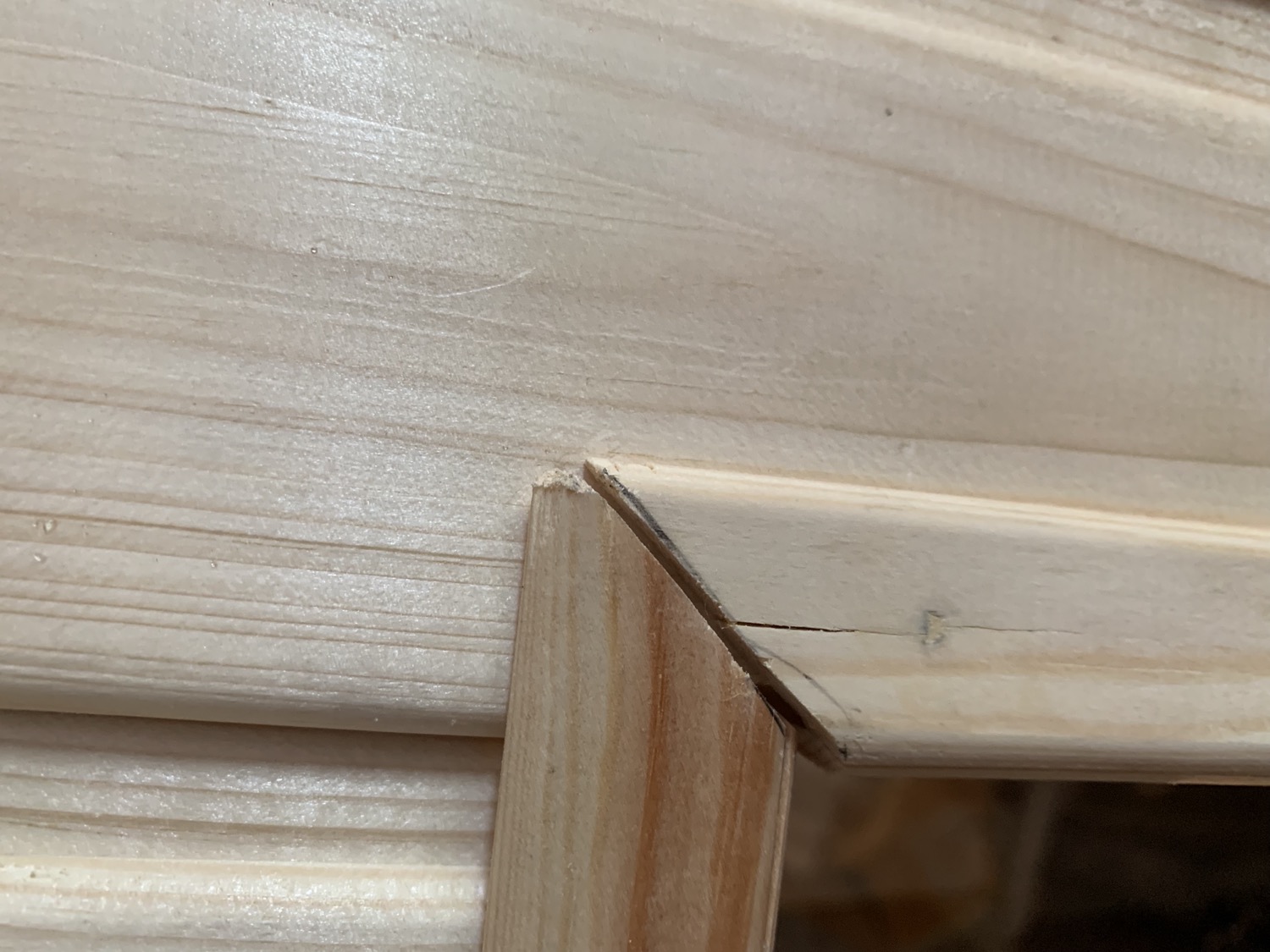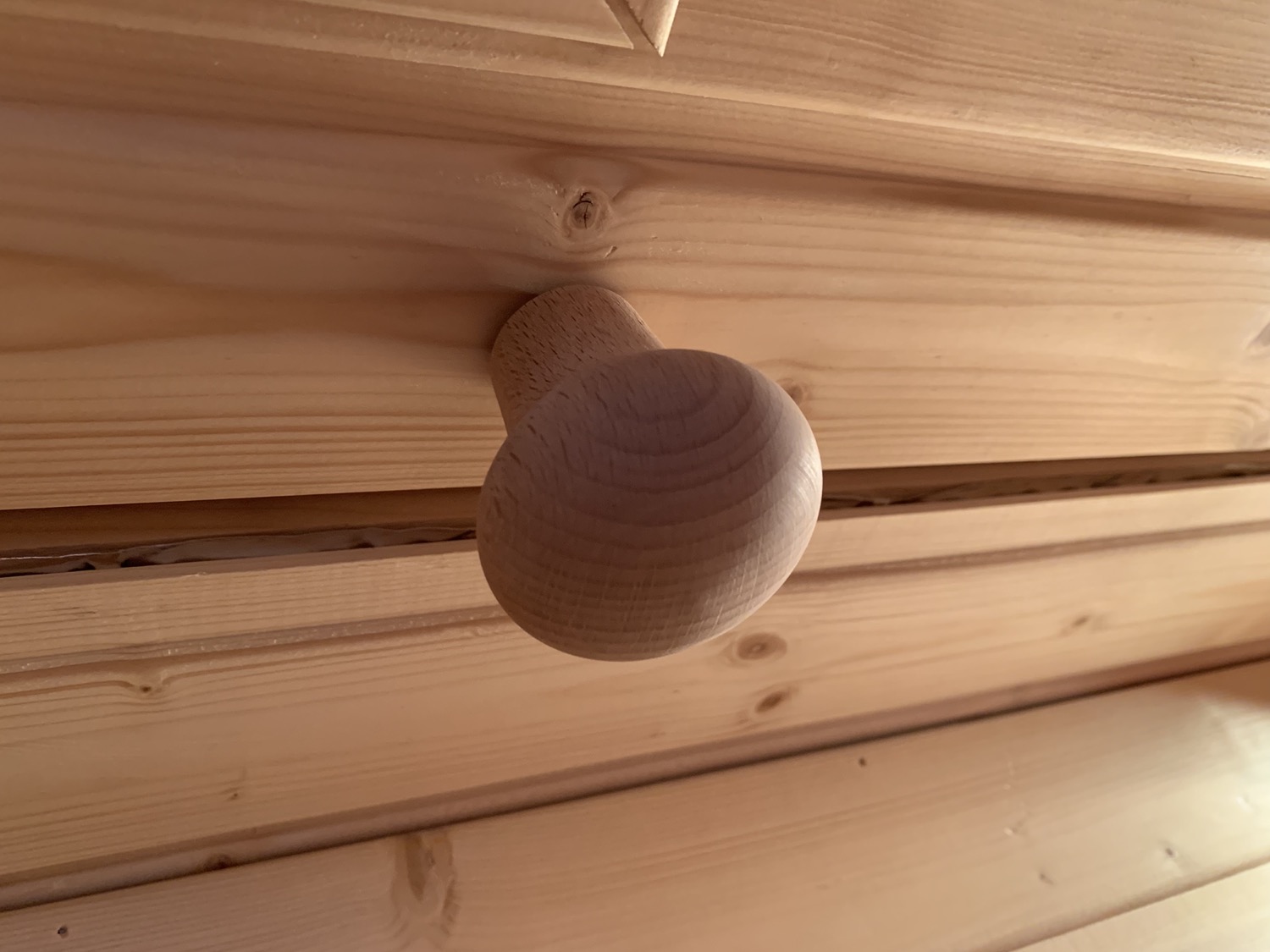 The Bench 🪑
Up until this point, I had been using a regular chair while testing the sauna, but the plan was always to build a proper bench with the leg heater built into it. While figuring how to fit in the leg heater was a bit tricky, I really enjoyed building the bench and am very happy with how it turned out.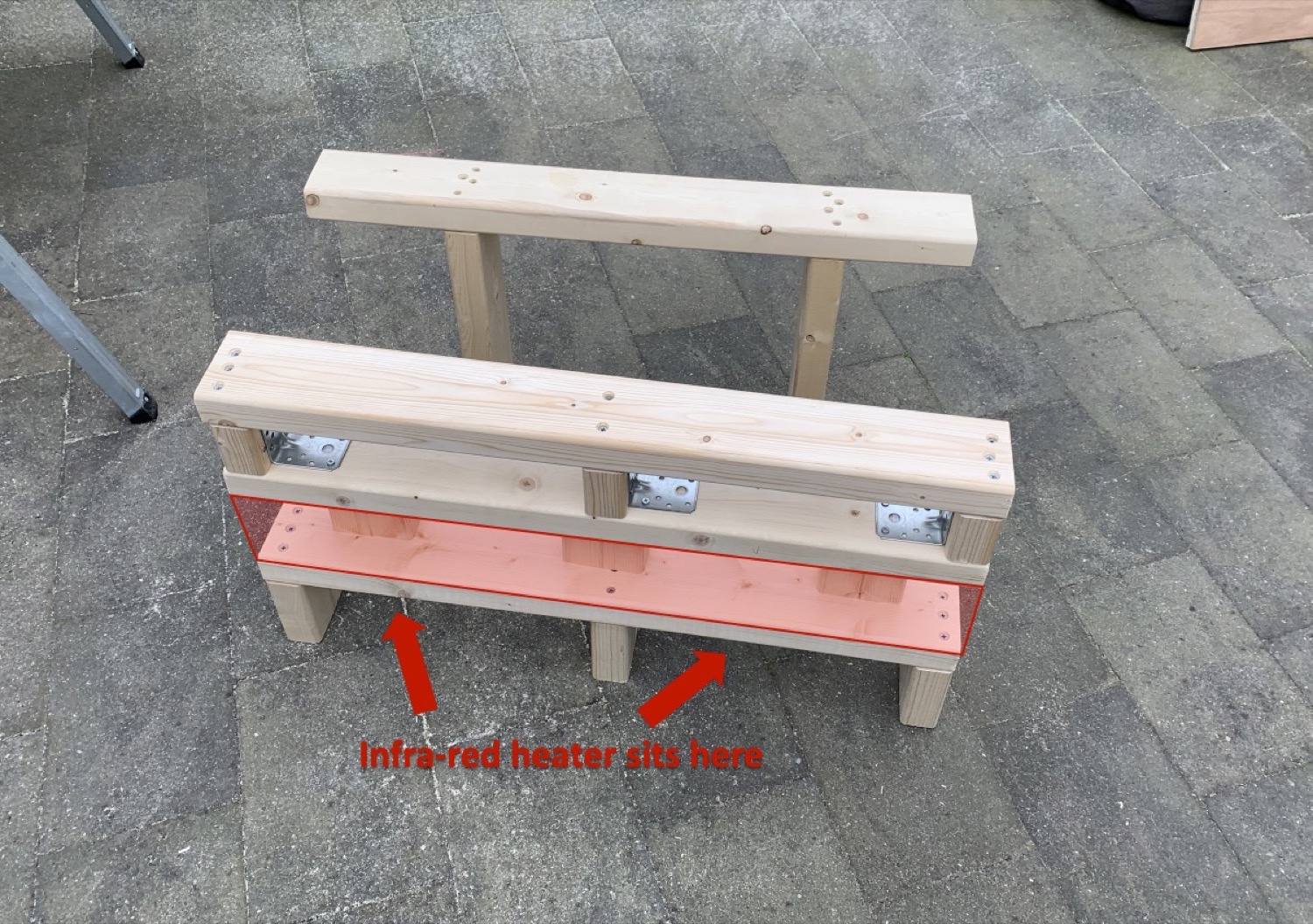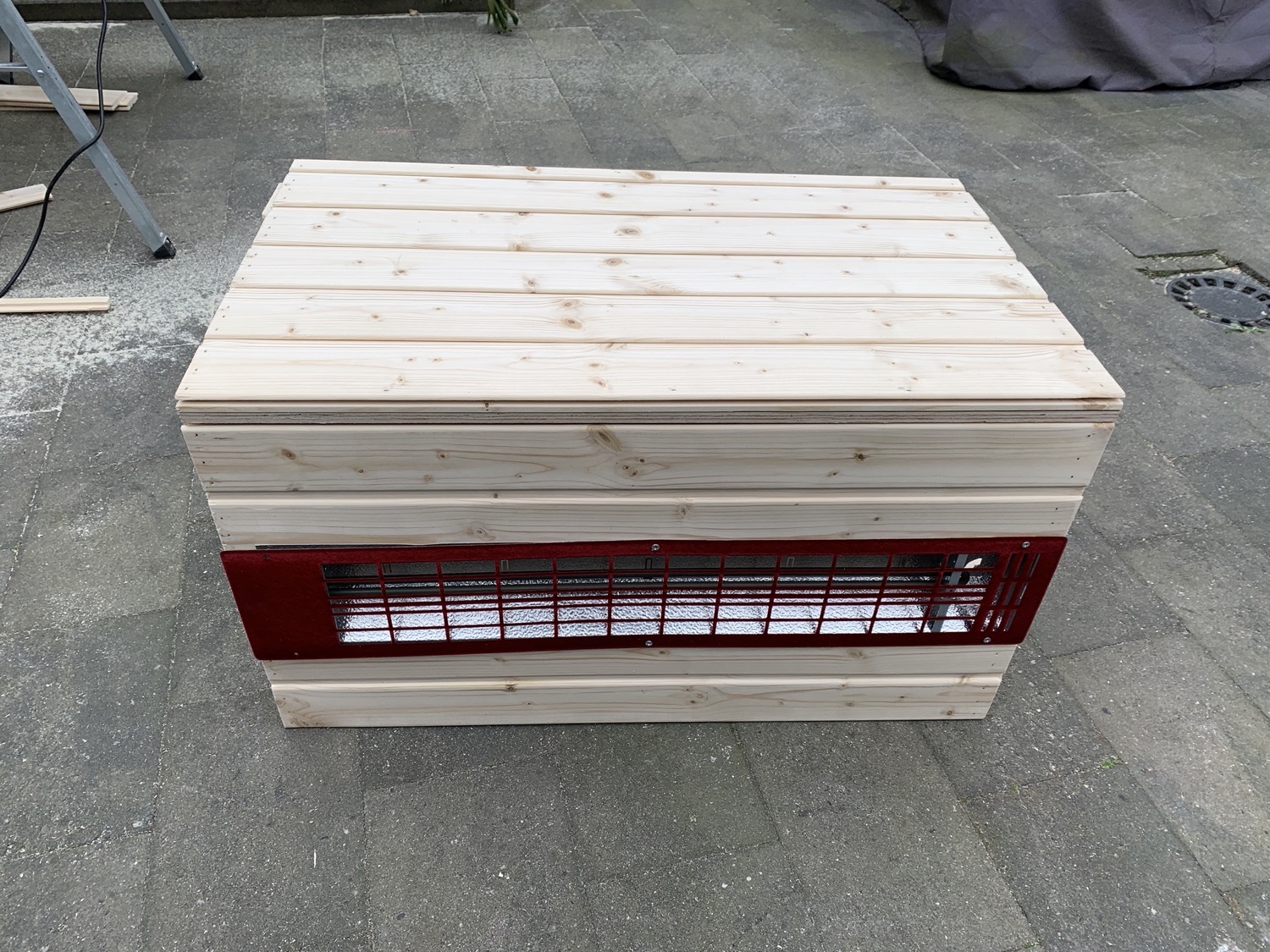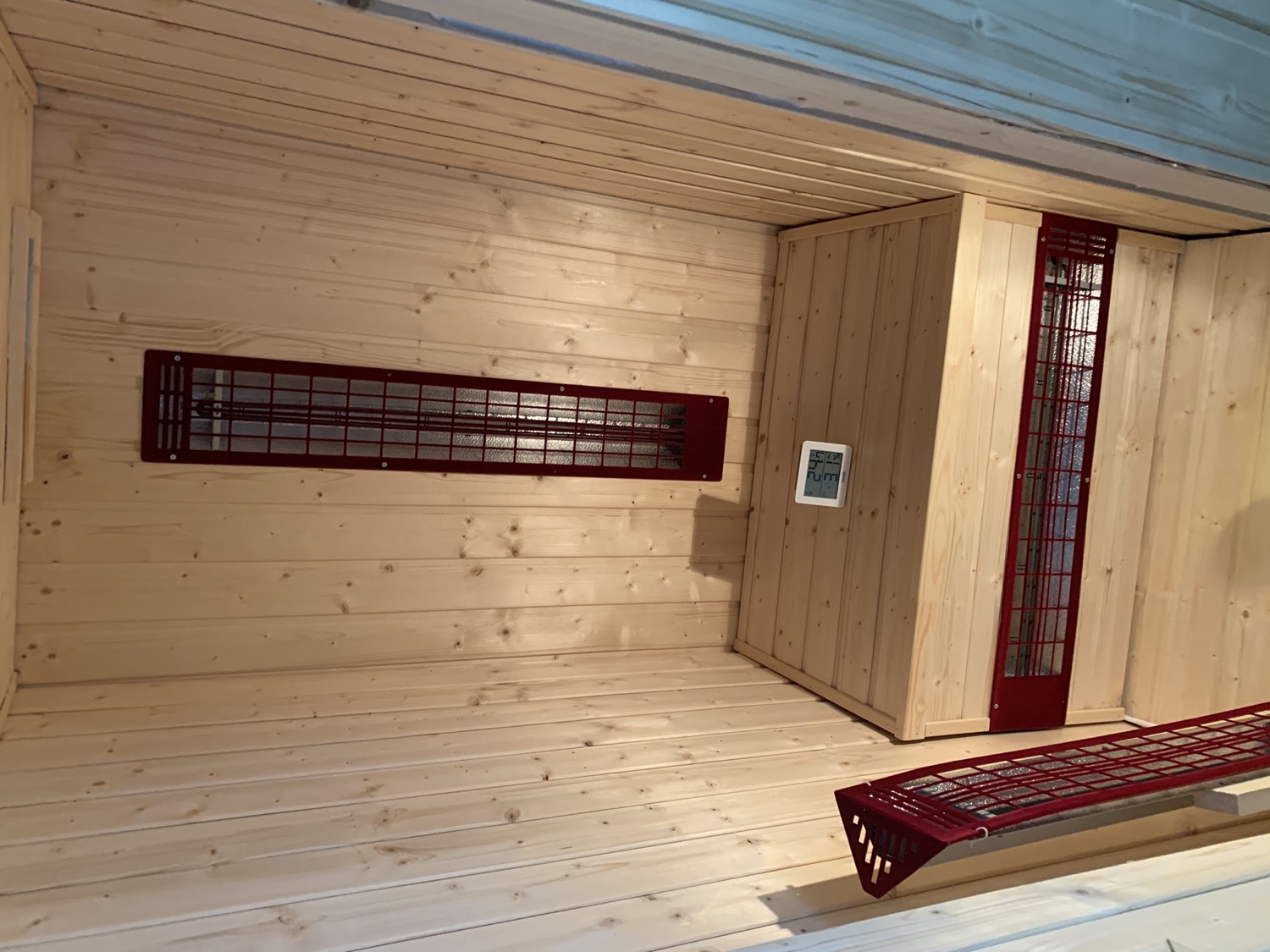 The floor and roof
While I could've skipped building a floor, it just looks better if the entire inside of the sauna is made of wood. The floor is not attached to the sauna walls, it's just a drop-in panel.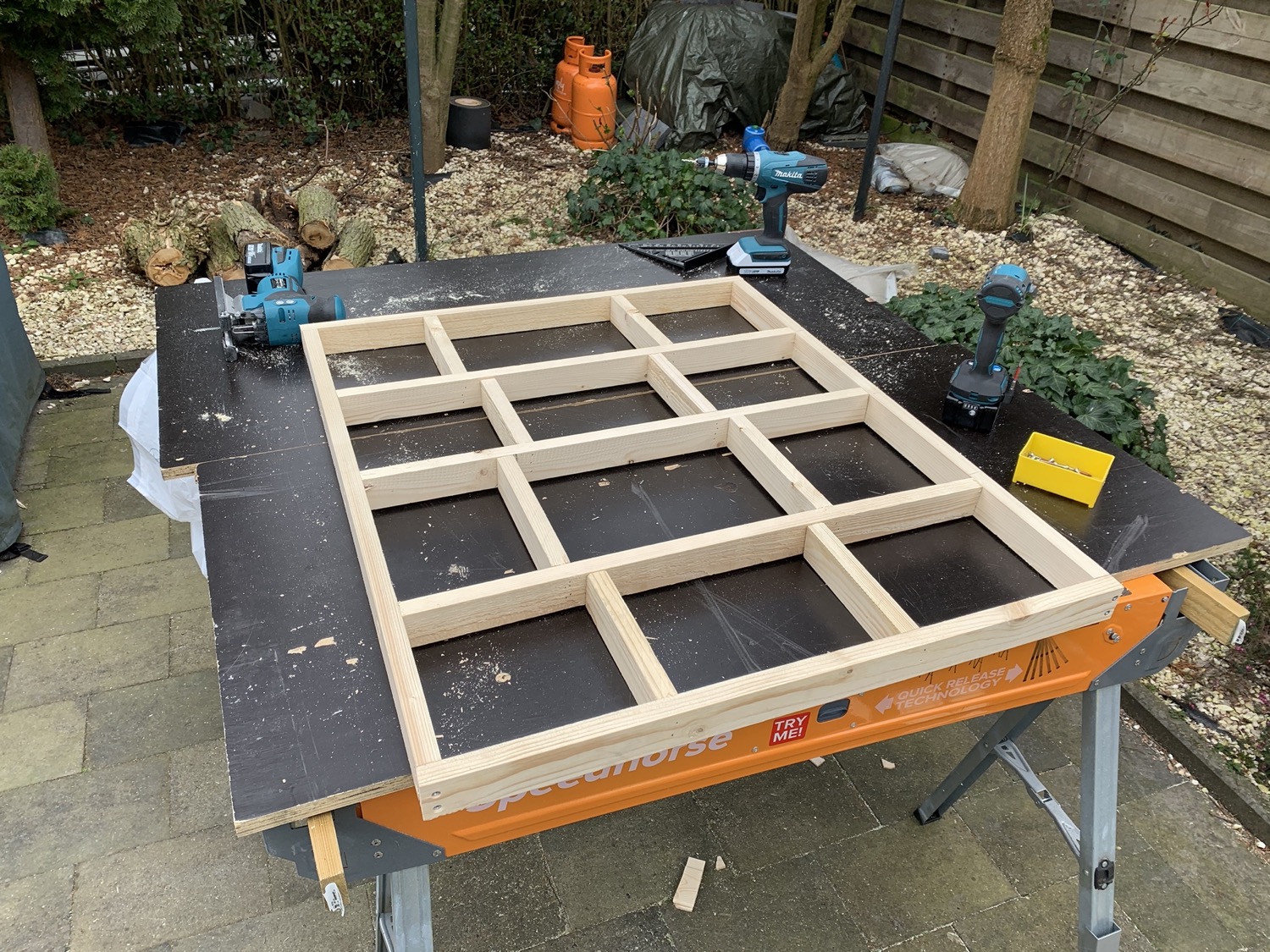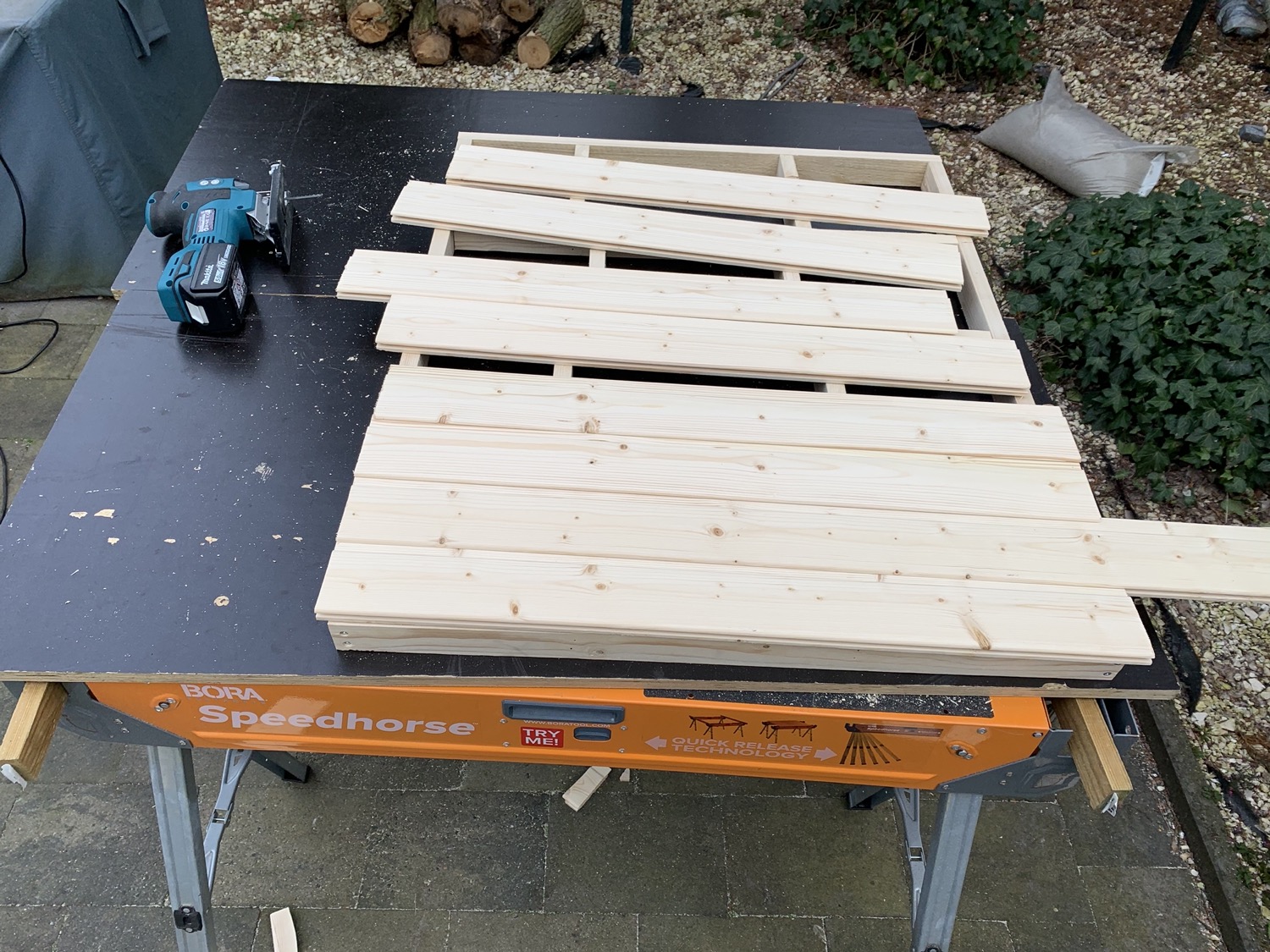 The roof was a bit more complicated, as I wanted to be able to remove it easily, while also adding a small ventilation window*.*
Additionally, I made a roof trim frame that slides on from the front of the sauna to cleanly hide the top of the walls and the sides of the roof.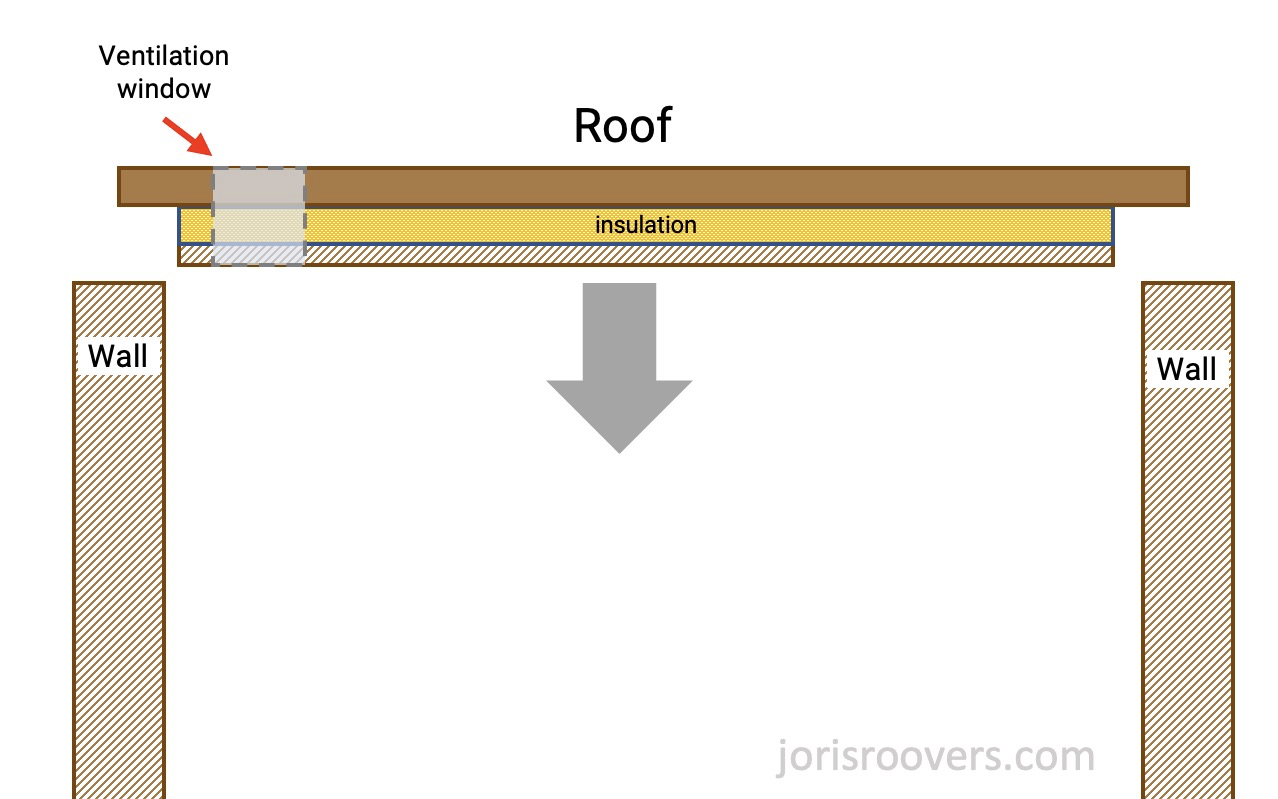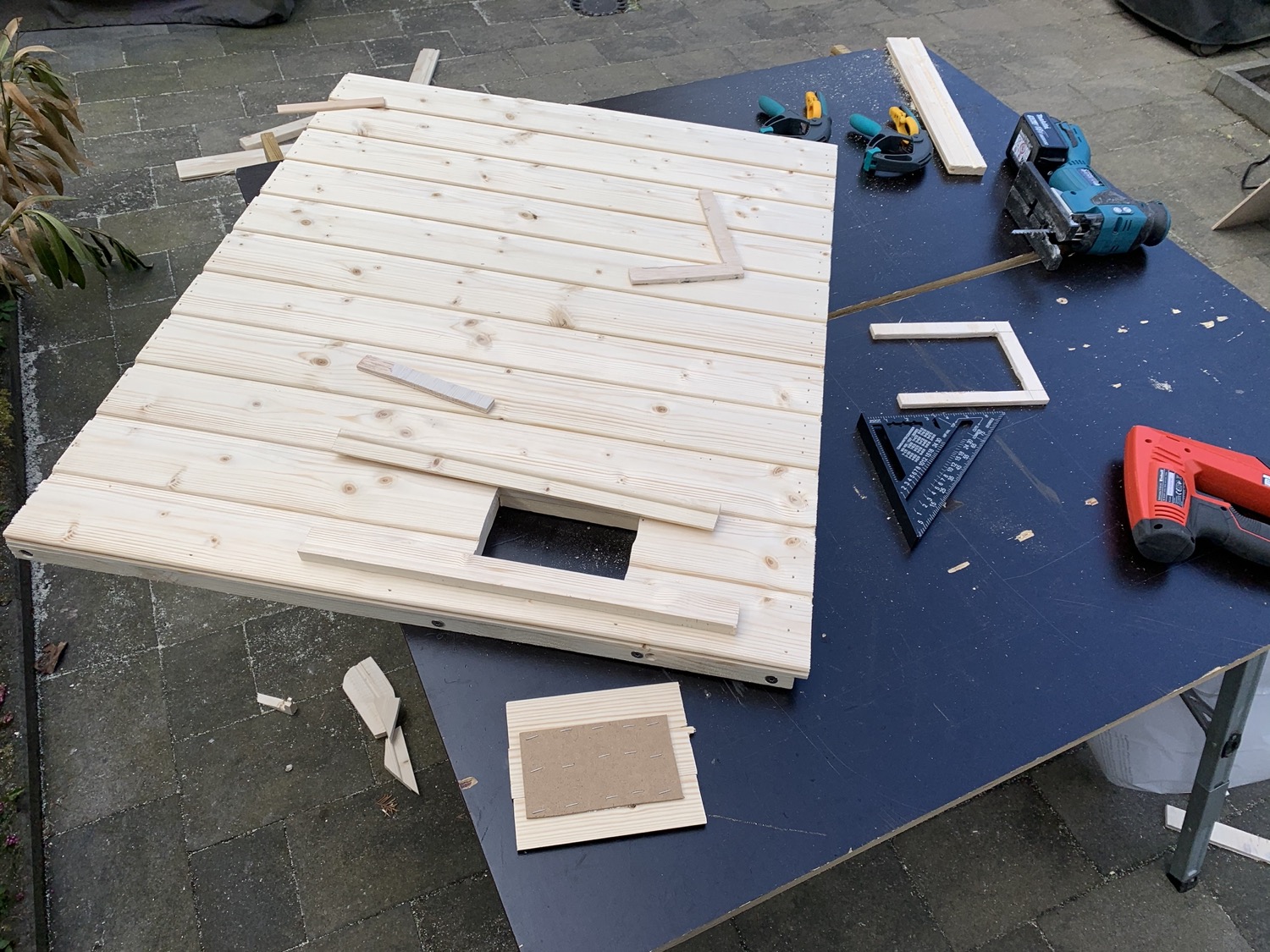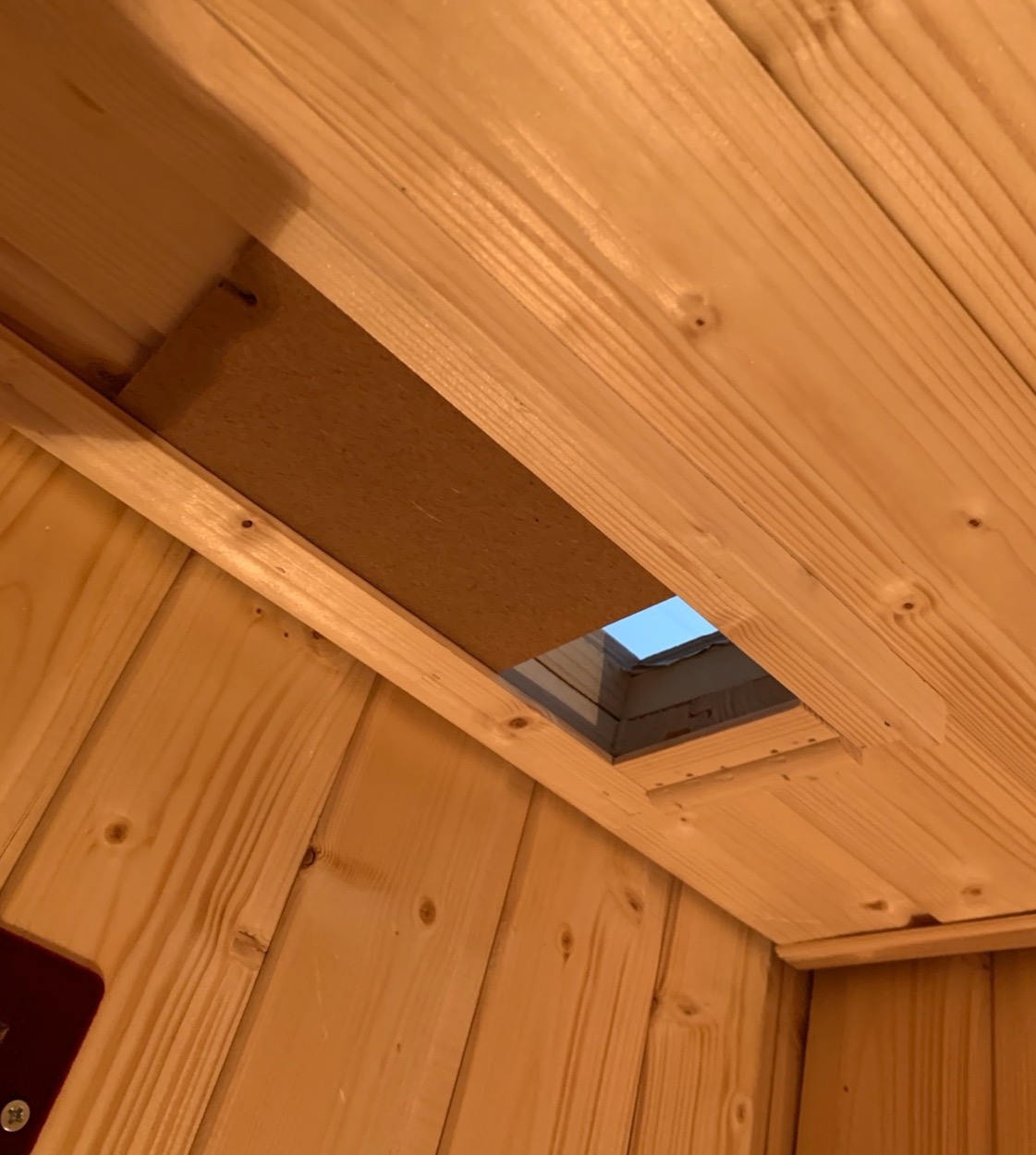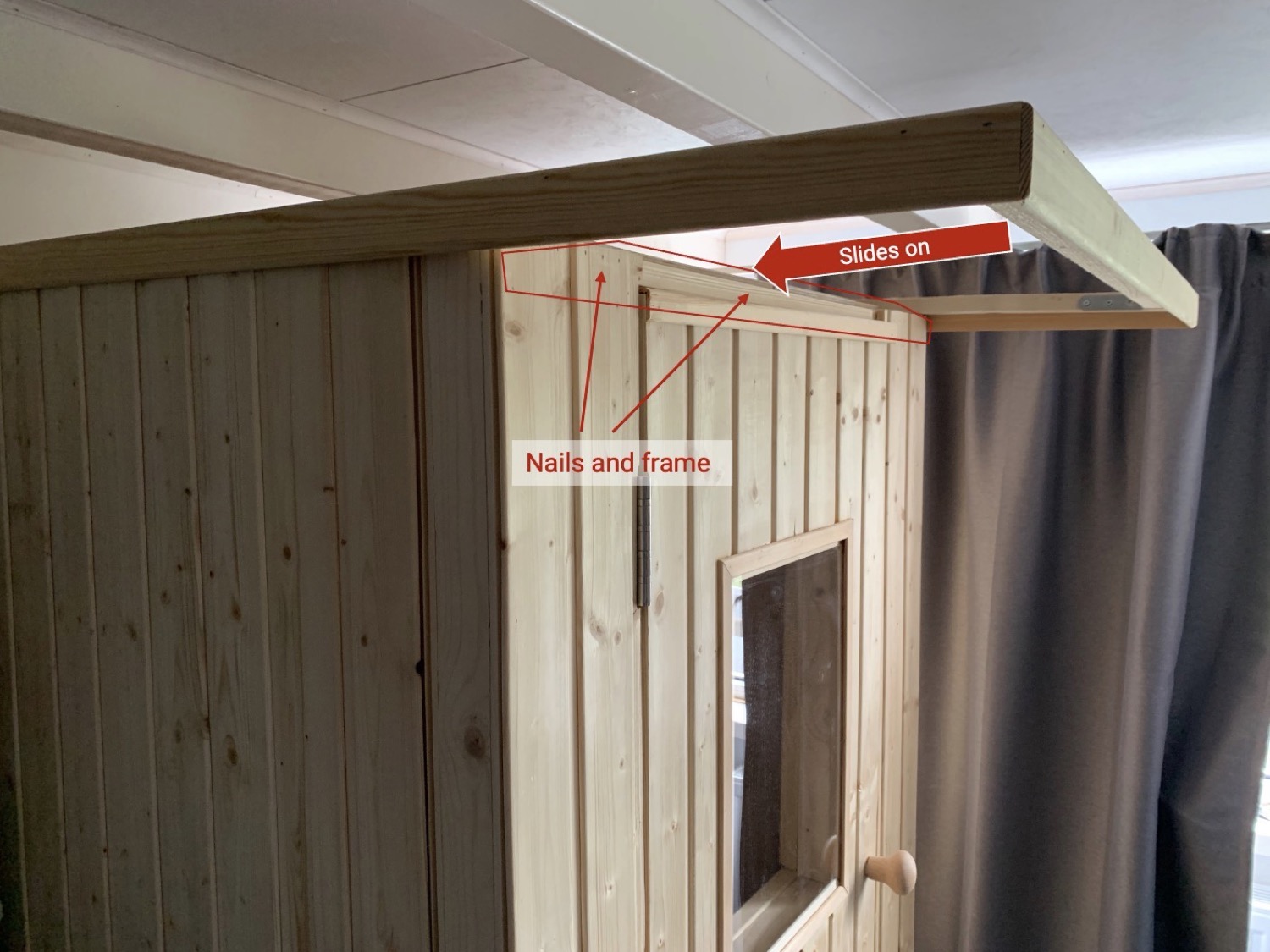 Putting everything together
The final assembly just involved a few steel angle brackets near the bottom and top of the sauna walls to hold everything together. After full assembly, these brackets are hidden by the bench, the drop-in floor and the roof.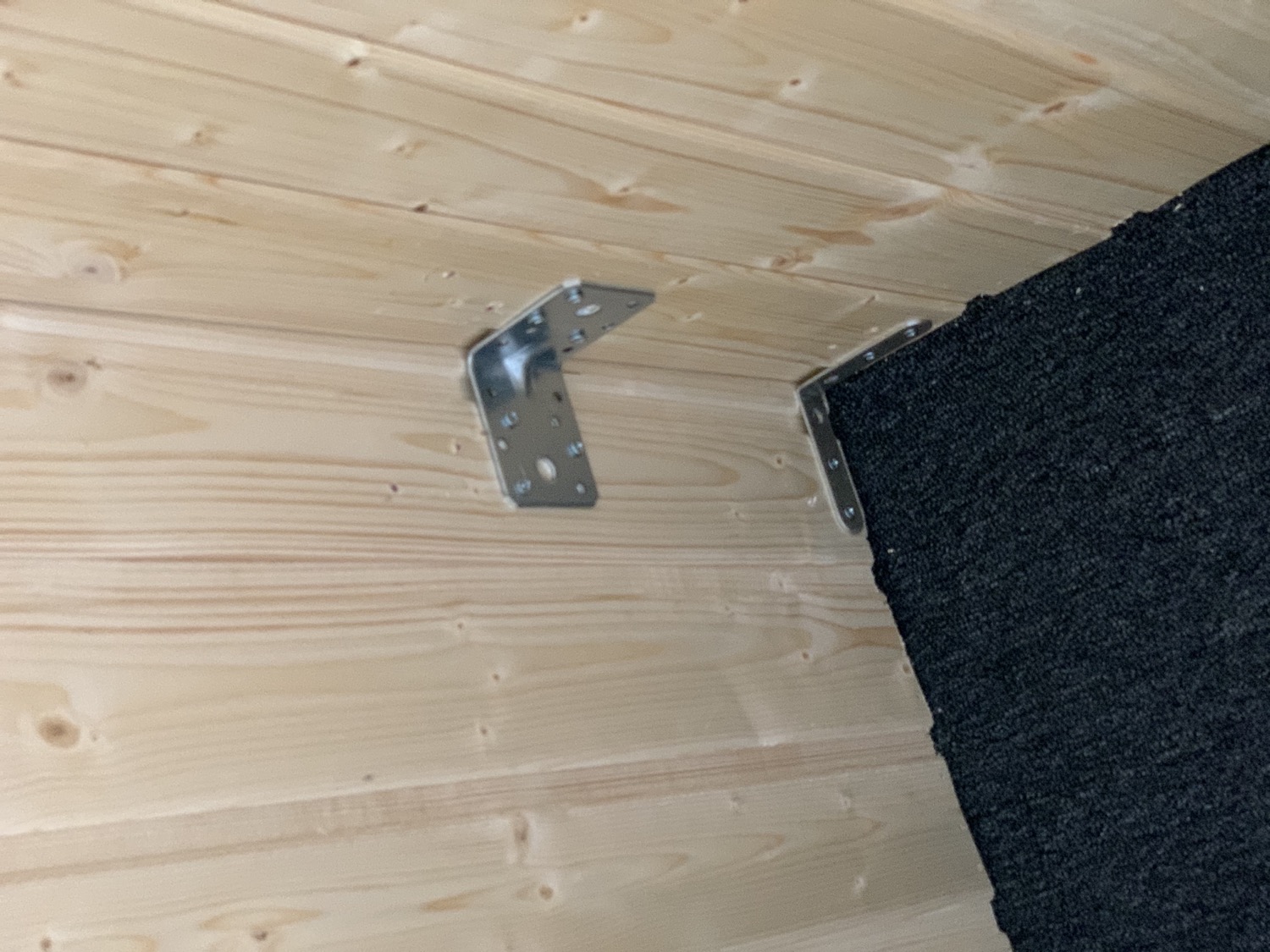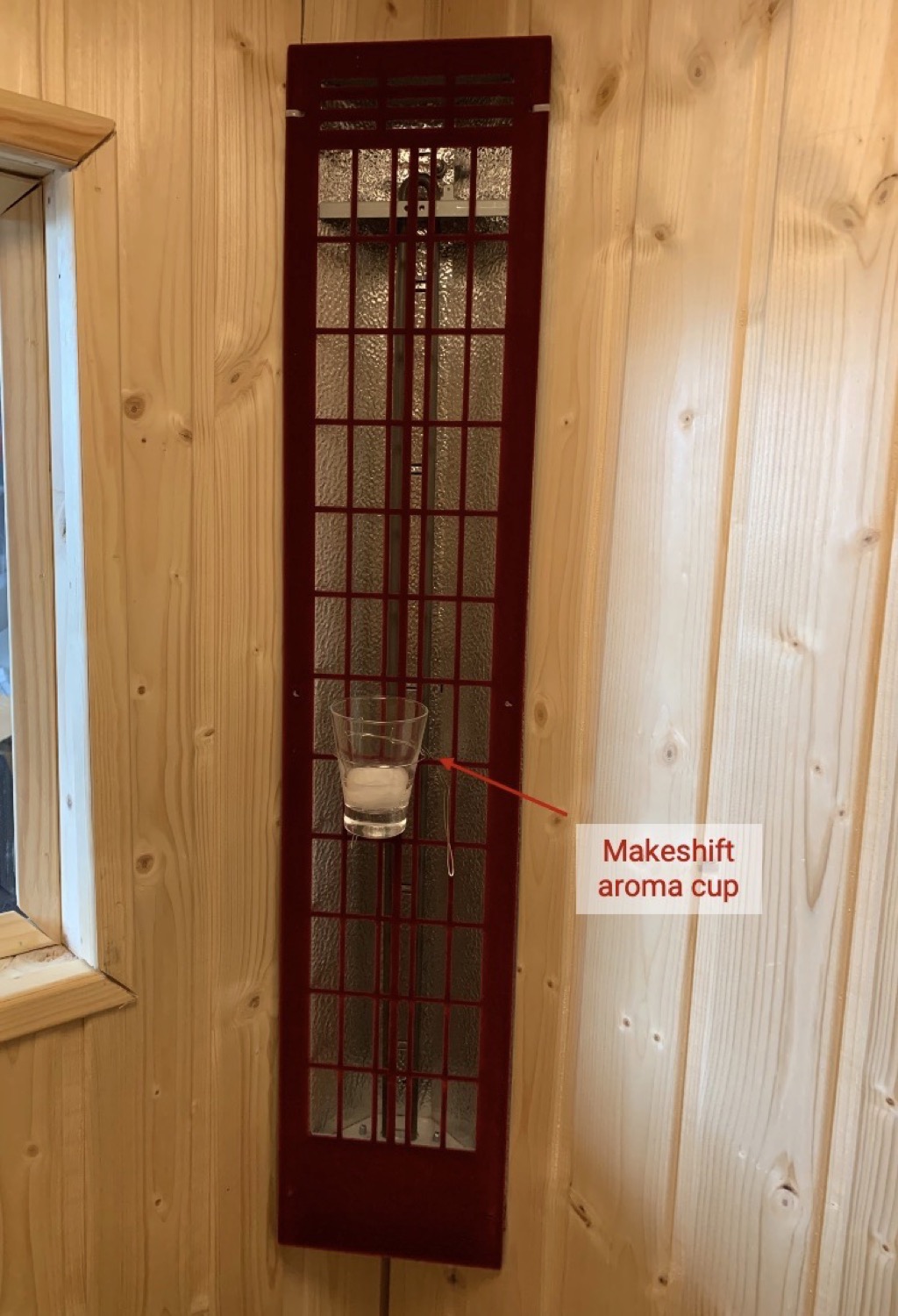 The electrical wiring was easy: I added a power plug to each IR heater and then plugged them all into a regular extension cord.
To finish things off, I added an LED light panel on the ceiling and attached an analog thermometer and traditional sauna hourglass timer to the walls.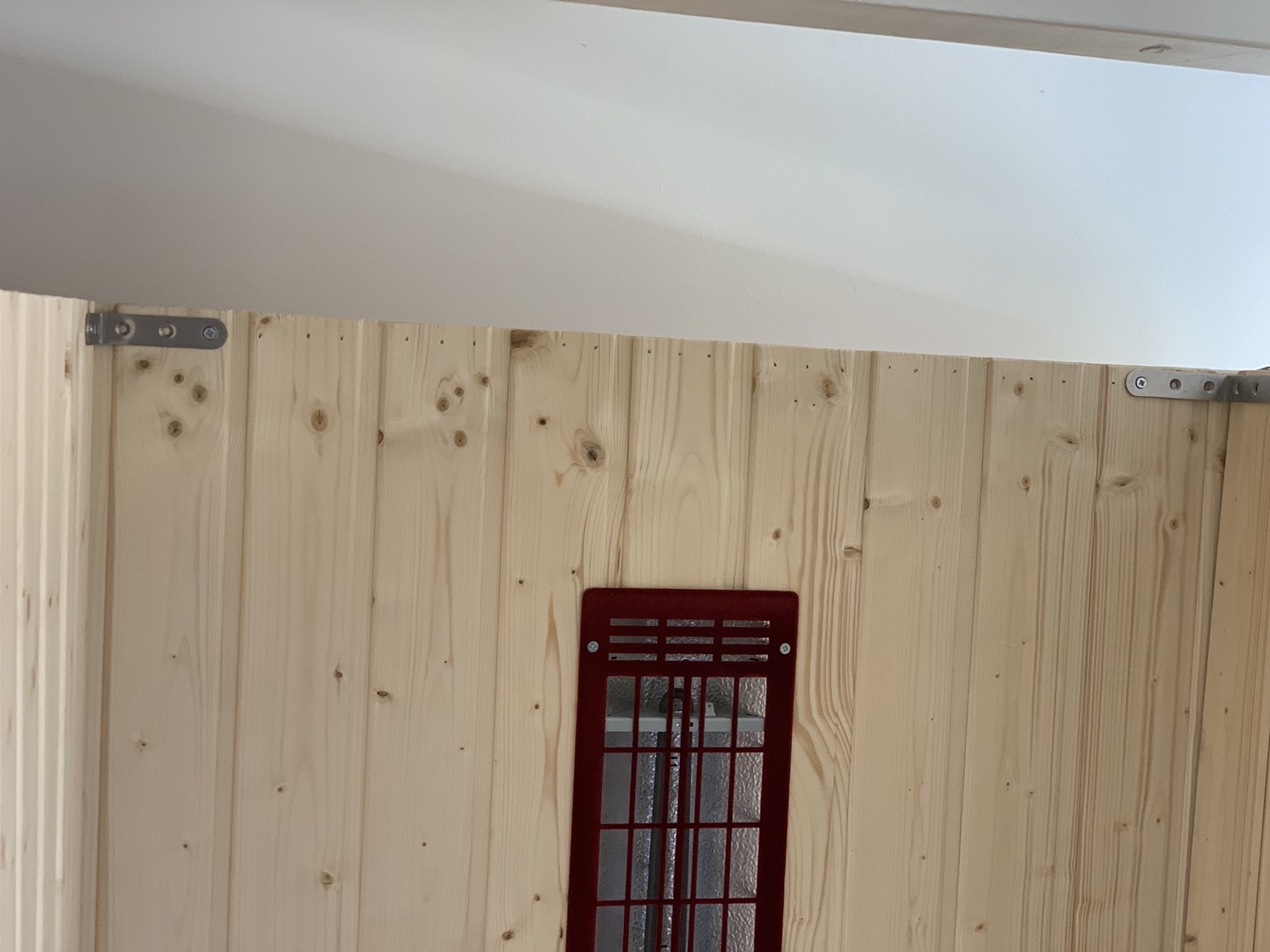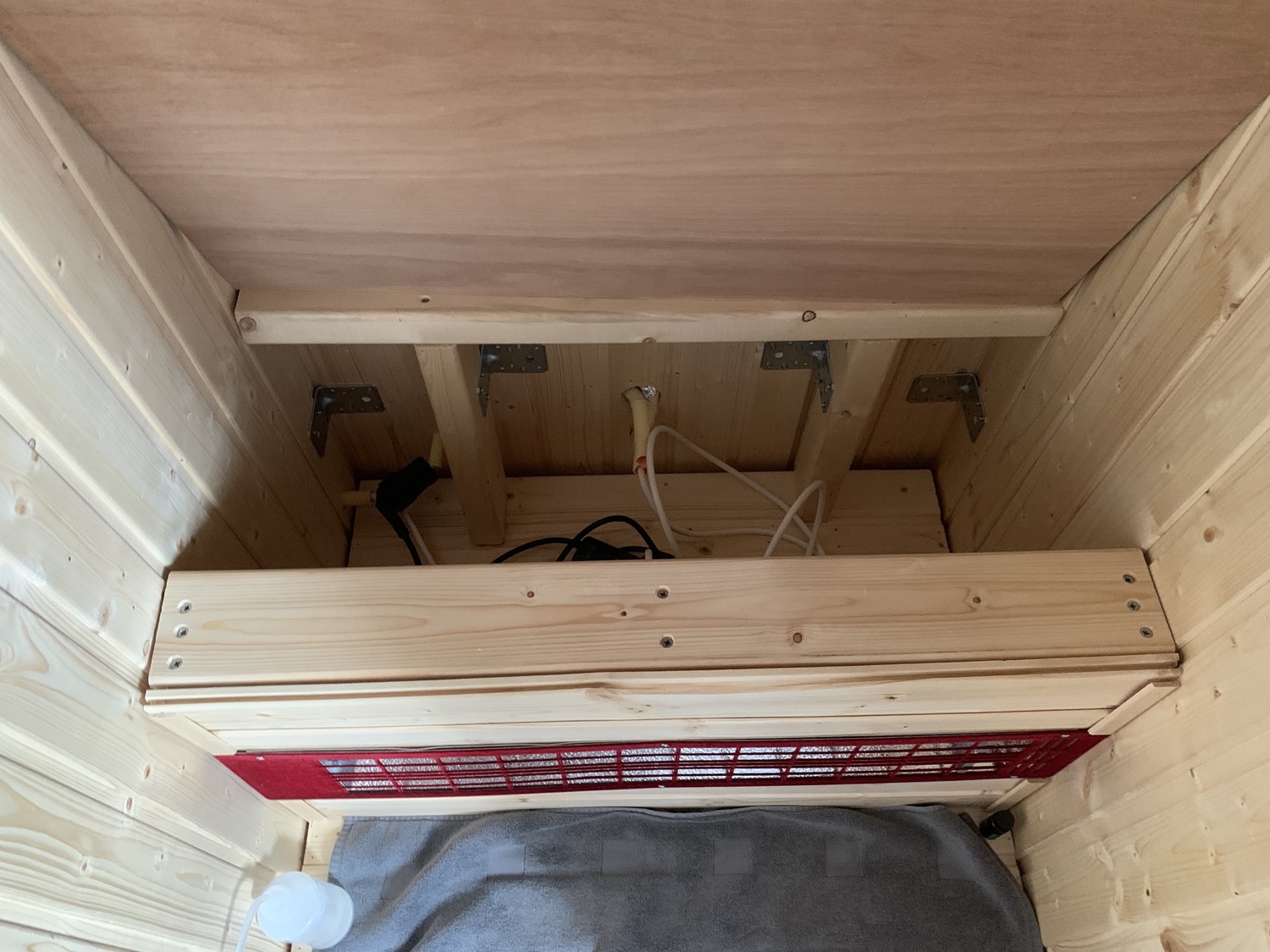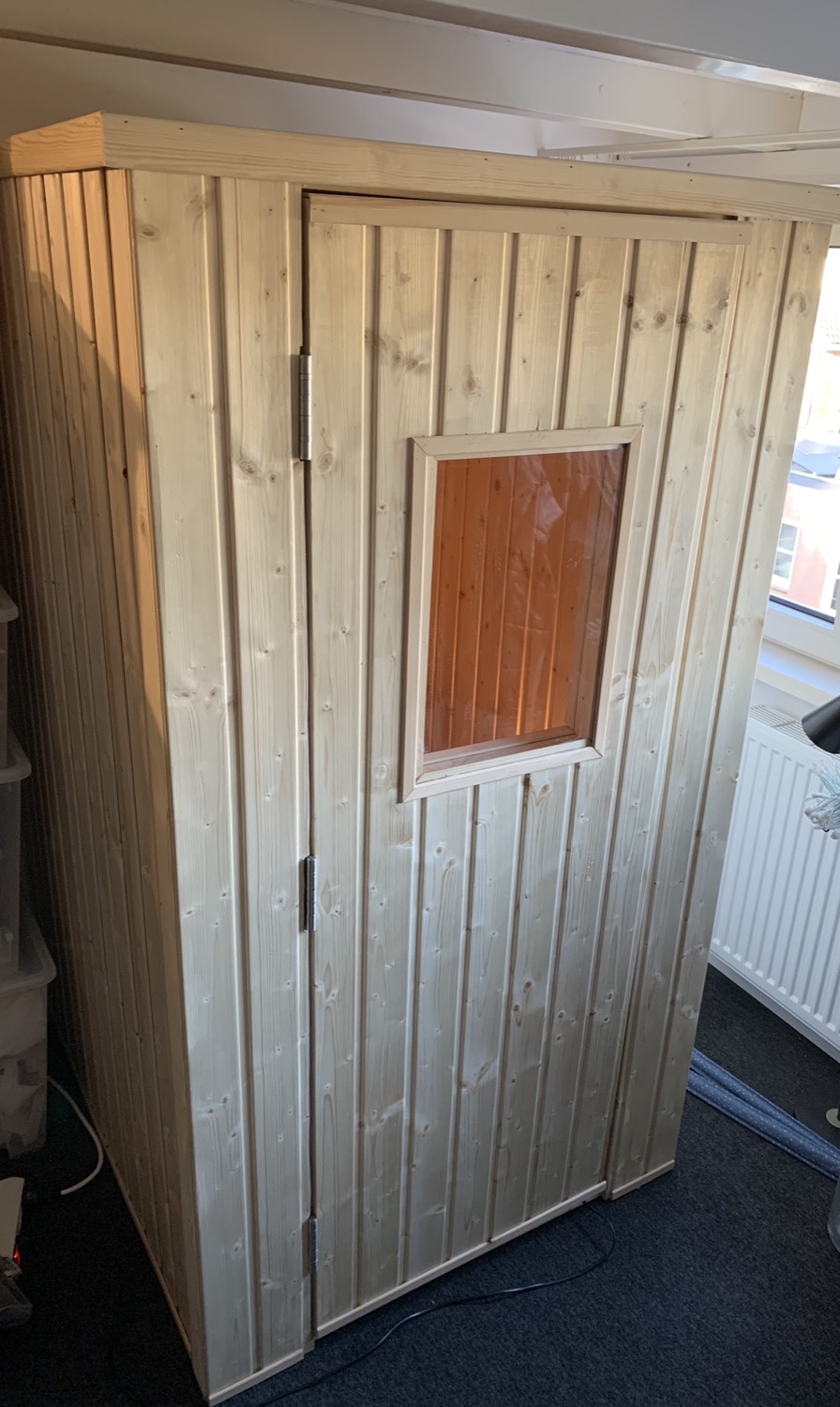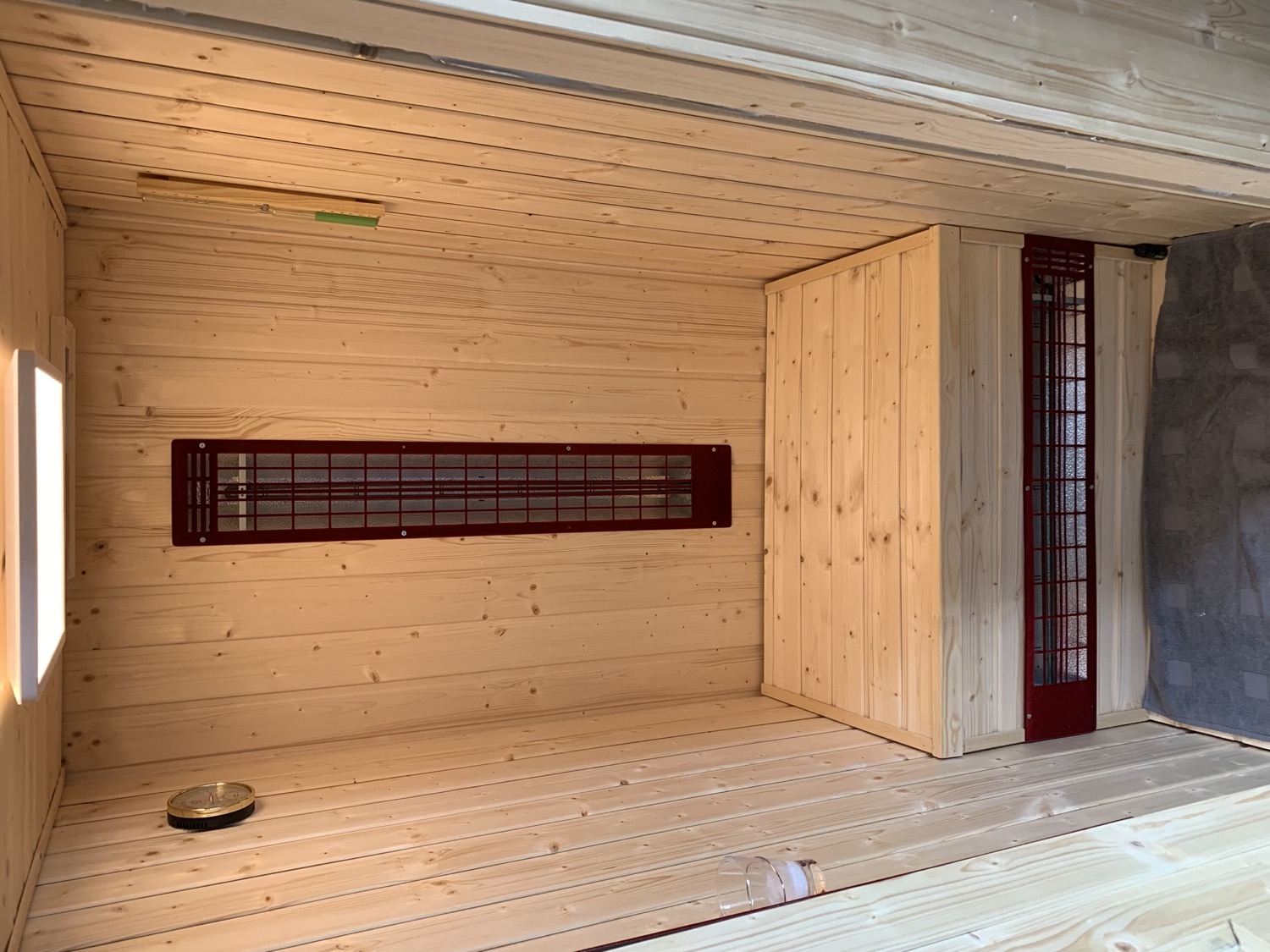 Adding home automation
Since this post is already getting long, I decided to break this topic off into a dedicated post.
Two more things
Cost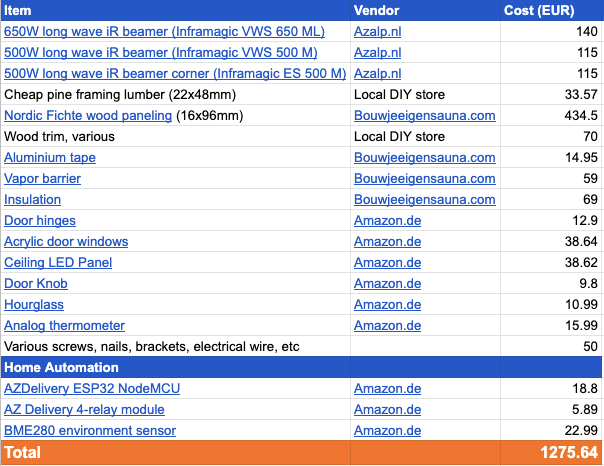 The total cost of the sauna was 1275 EUR.
I'd estimate there's about 25% inefficiency in my build, i.e. leftover wood panelling, trim, insulation, etc that I paid for but didn't use. While you could argue that brings the actual cost closer to 1000 EUR, I don't think that's fair given the minimum length of wood planks, needing to experiment a bit, building in a margin for mistakes and lacking economies of scale. These things are hard to avoid when building only a single sauna, and for the first time.
While cost wasn't a large driver for building the sauna myself (it was hobby/learning opportunity and those usually costs something anyways), the end result did end up being cheaper than had I bought one instead (of course, that's not accounting for my time).
To compare, the cost for a 1 person pre-fab infrared sauna falls in the 1000-1500 EUR range on average, but can go as high as 3000 EUR when choosing premium wood, build quality and options.
However, as discussed at the start of this post, going with a standard pre-fab sauna wasn't really an option for me given the dimensions of those saunas. Even though I didn't actually inquire for quotes, I'm convinced any custom build sauna would've cost (significantly) more than what I spent.
Quality and finish
So does my sauna look as good as a pre-fabricated sauna made using industrial tools? Definitely not.
Does it look good enough to fool someone who's just passing by? Absolutely.
Do all the small mistakes I made along the way jump out and bother me? Yes, of course, they do.
Is that made up for by the sense of accomplishment I feel having built the sauna myself? 100%, no doubt.
Anything you'd do differently? Try a little harder to get the door trim right maybe. Buy better framing wood (less crooked). All-in-all, I'd do it pretty much the same way.
Conclusion
This was the first time I build something this size with wood, starting completely from scratch. I really had little prior experience, other than doing some general DIY around the house, a few smaller woodworking projects and watching a lot of maker channels on youtube.
Having my own personal infrared sauna at home was always something I wanted. Finally having one has been fantastic - that fact that I built it myself makes it all the better. More than the end-result itself though, the whole experience of building it, and the skills I gained along the way have been invaluable. I feel more confident as a maker, ready to tackle more complex and challenging projects - whatever those will end up being.
If you're in doubt or intimated by a project, I would encourage you to just start - that's really the hardest part.