Hi! It's me, Joris.
It looks like I've linked you here myself. Linking people to a blogpost I wrote is often a bit akward, especially at work.
I likely shared this blog in an attempt to further a conversation. Usually the post does a better job at succinctly sharing information than I could by talking.
In any case, I hope me sharing this post doesn't come across as humblebragging, that's really the opposite of what I'm trying to achieve.
Thanks for reading!
Spending a month in Portugal
Working remotely, with a family
This past February (2023), we decided to pack our car, drive 2300km south and work remotely from Portugal for a month. With 2 young kids (18 months and 3.5 years). Here's how that went.
Why?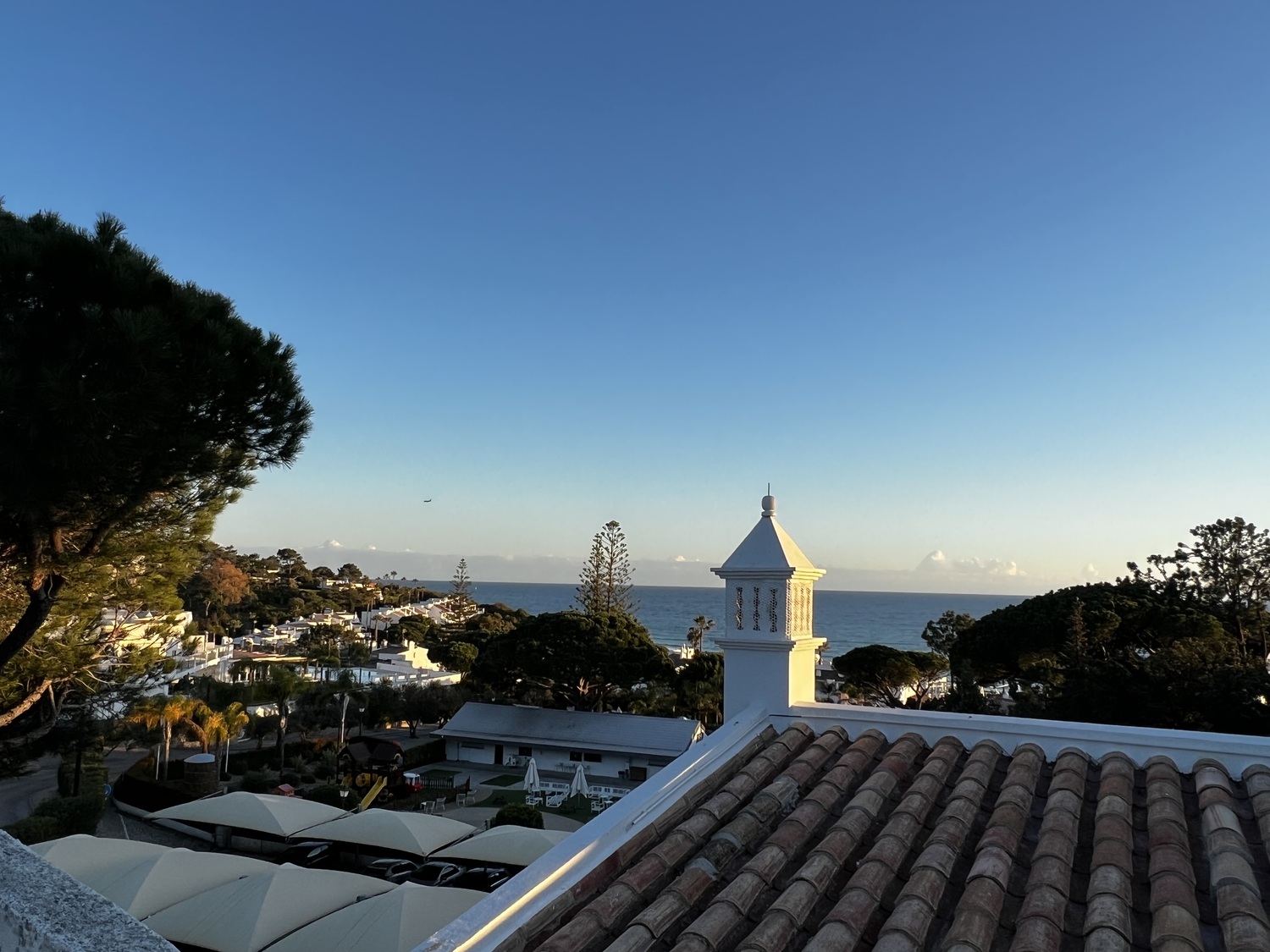 Escaping the rat-race: The big picture is that we're searching for a way to live more deliberately. The idea that you shouldn't let life happen to you as a result of past choices, daily obligations and routines - but intentionally shape it instead. Especially with kids, it's very easy to slip into auto-pilot and perhaps have regrets later. It should be clear that this is an ongoing search for us and that there's much more to say about this - perhaps in a future blog post 🙂

Spending more time together: While my wife works half-time, she still spends almost 2 hours per week day commuting for work and daycare/kindergarten. Additionally, most of my work meetings are right around the time the family comes home in the evening. As a result there's little quality time as a family on a daily basis. This is something we wanted to compensate.

Because we (still) can:

No ties for work: I've worked from home for the over 10 years and work mostly asynchronously (independent of time and place). For my wife, the pandemic changed everything at her employer. We asked and got a yes!
No ties to school yet: We've realized that our daughter has about 18 months left until school becomes mandatory. Doing this will be a lot harder once that's the case - i.e. the time is now!

Seek adventure and discomfort: Explore, see new places, experience new cultures - all the reasons people travel :-) Ever since we got kids we've travelled little, we wanted to rekindle this. At the same time, by deliberately putting ourselves in an unfamiliar location and context we believe we can grow as individuals and a family by developing new skills and handle new situations.

Why Portugal? Mostly because it's warm-ish (15-20C) in February and because we hadn't spent any time in Portugal together. Some other places were considered (we wanted to stay within Europe) but we didn't overthink it. We ended up going to the very southern tip of Portugal in the "Algarve" region.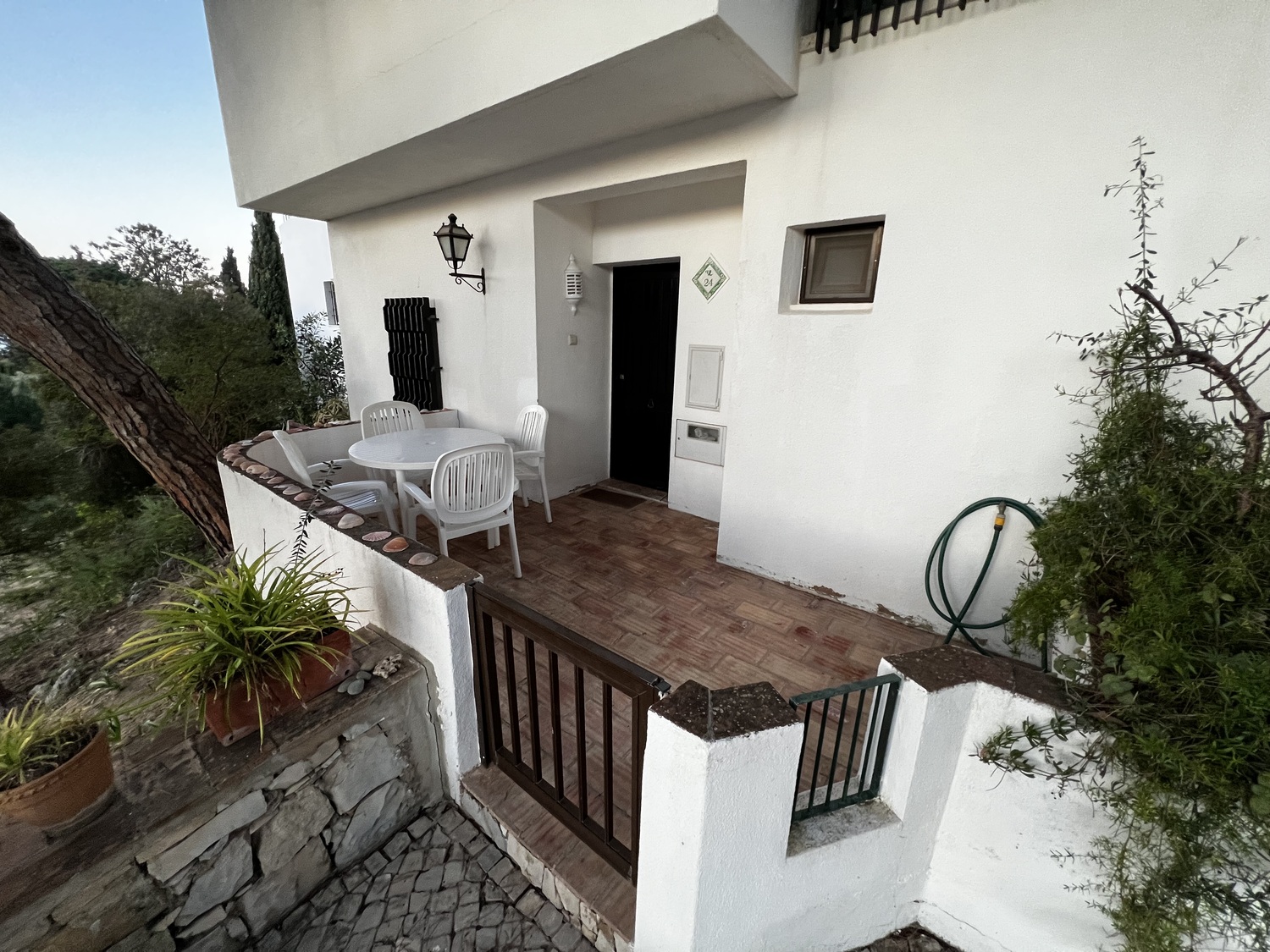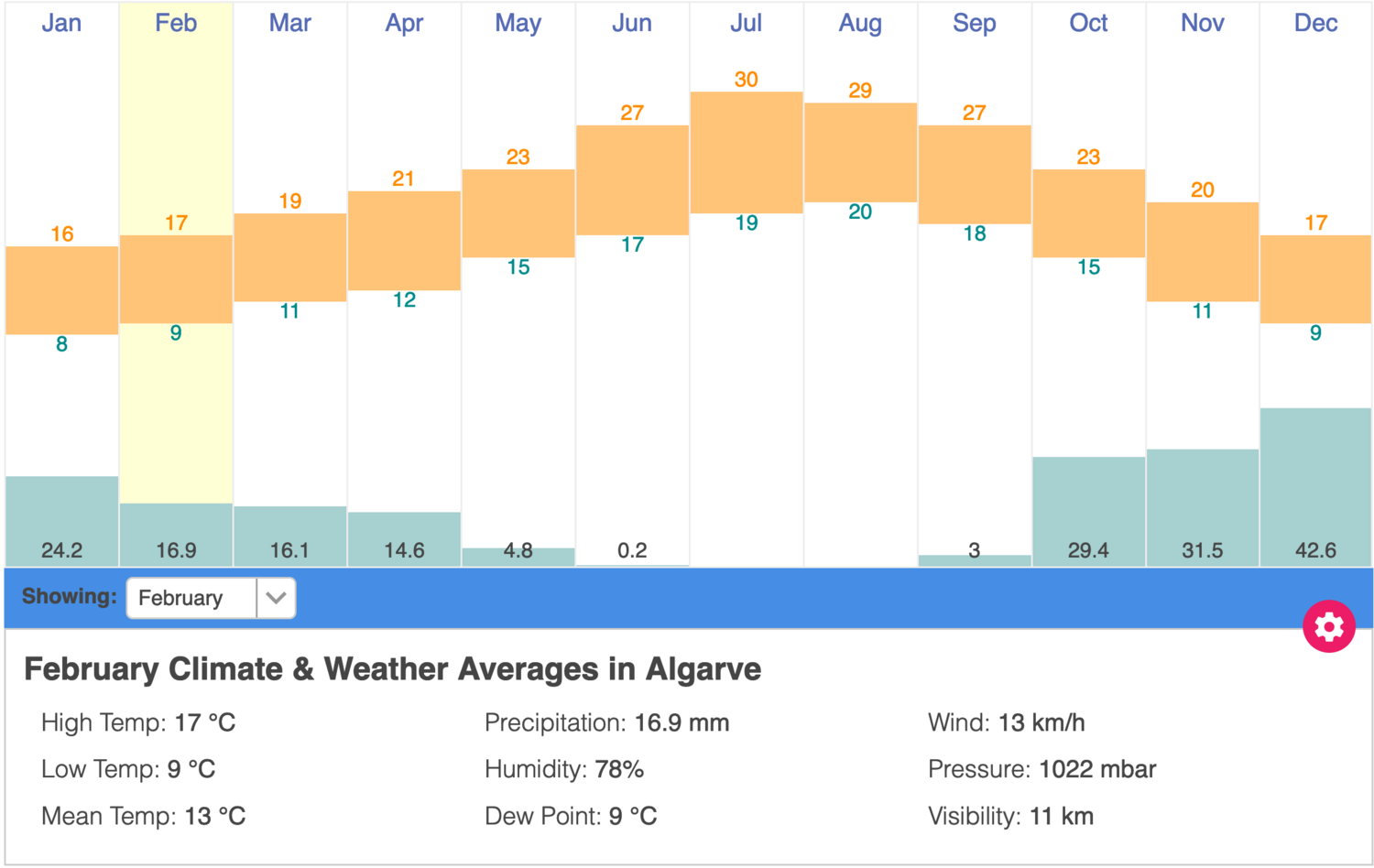 How it went - the good, the bad, the ugly
The good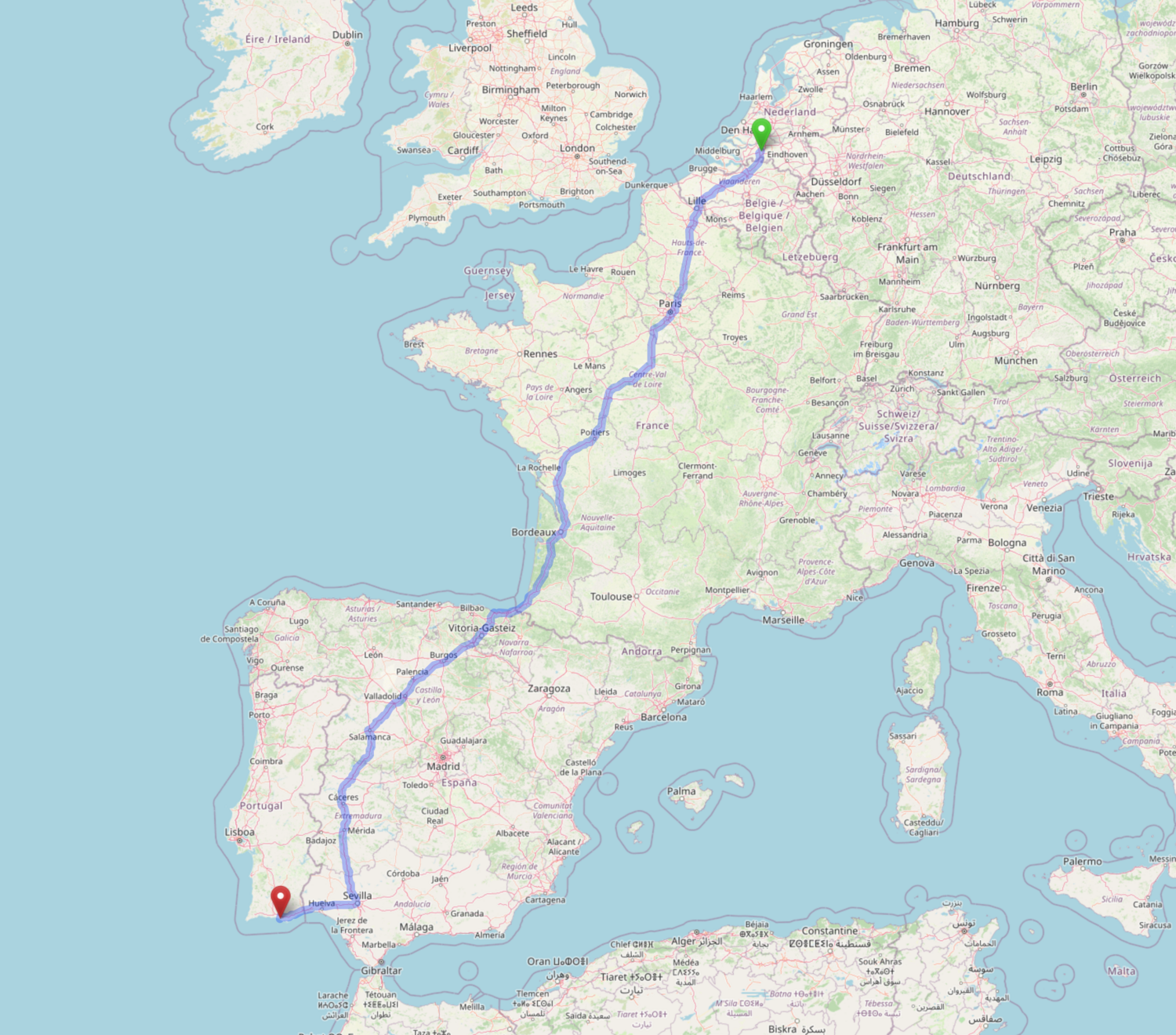 Prior Excitement: Having something concrete to look forward to made January go really fast. We had many conversations about practical things like car organization, luggage packing, remote work setups and daytime activities for the kids. Having a family project to jointly obsess over was already a lot of fun on its own!

Journey: Because of the amount of baggage, the length of stay, overall cost and quite frankly for the challenge of it, we decided to drive rather than fly. This went well and without major hiccups. On both legs of the journey we held overnight stops at AirBNBs en route. When the conditions are right, a long car drive can definitely be enjoyable. The kids also did really well, although some excessive TV time (headrest mounted iPad minis) was pretty much unavoidable for us to keep our sanity.

Exploring: Visiting new places during the weekend, going for long beach walks, exploring the local area, visiting new malls or restaurants, learning about the local culture. There were definitely times when it felt like we were on a holiday!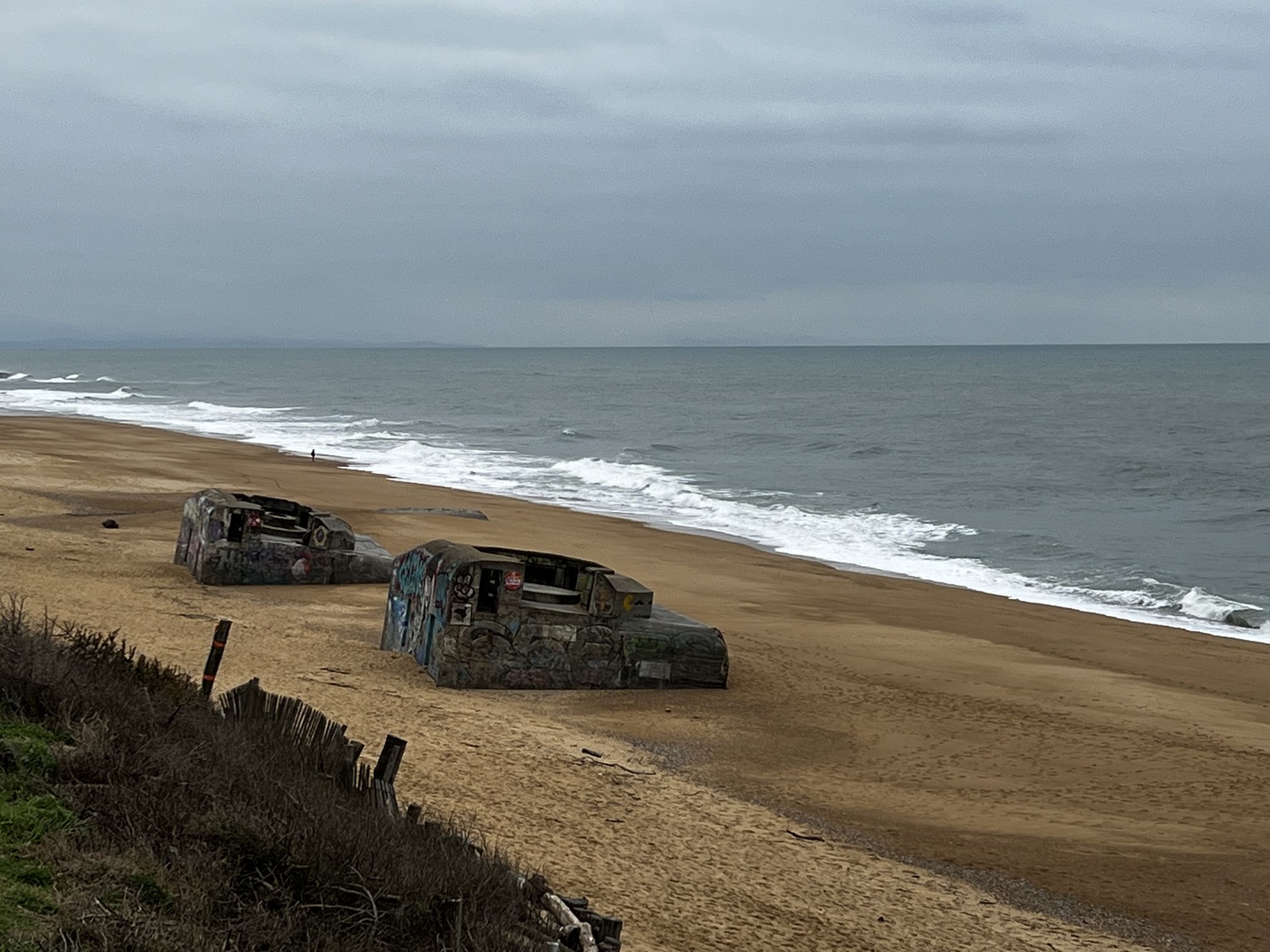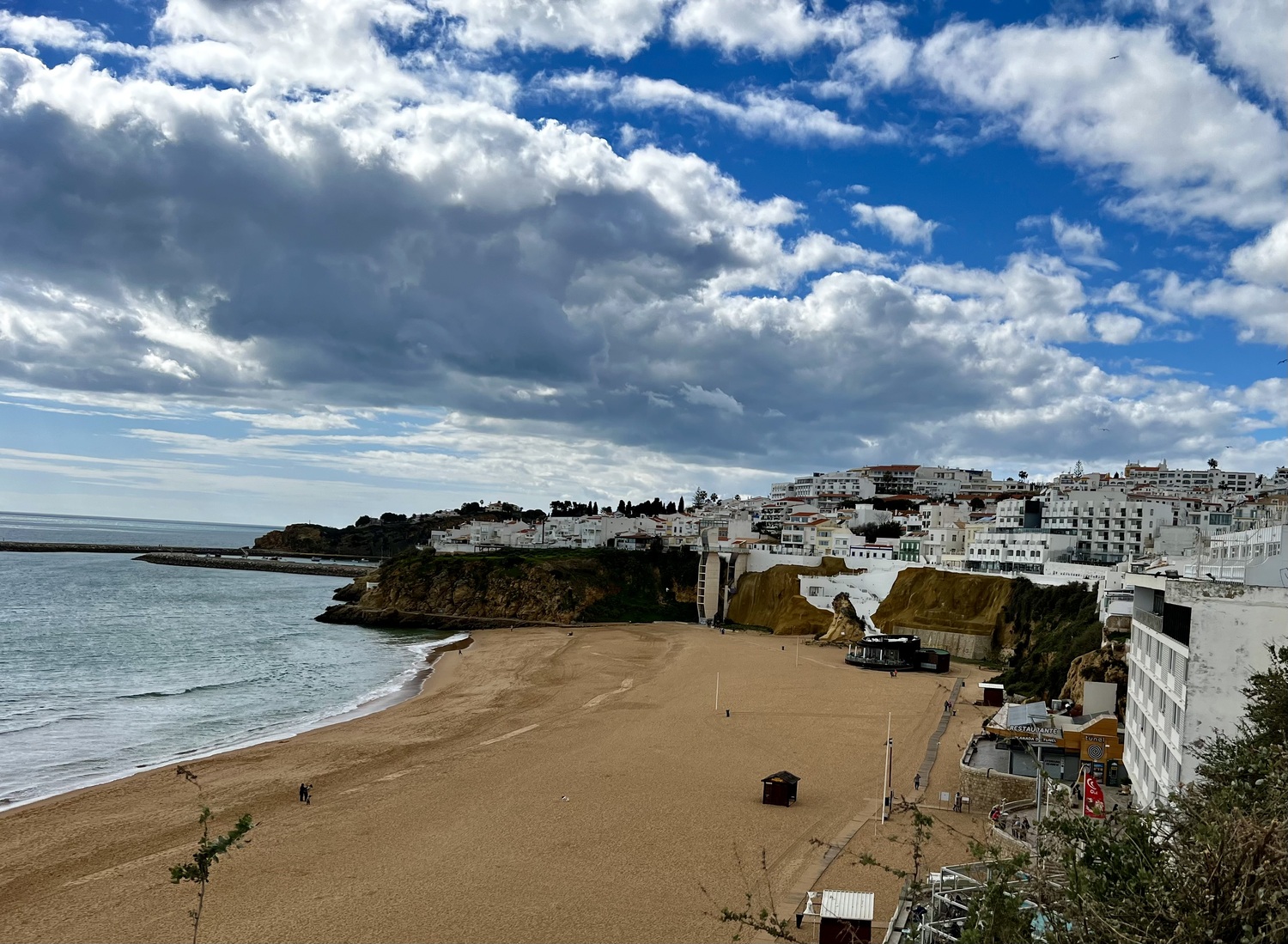 Weather: While it wasn't really warm (~18C on average), it sure was a lot better than the winter temperatures back home. In the sun and sheltered from the breeze, it sometimes even felt like summer 😎
Family time: Spending 24/7 together for an entire month was fantastic. The ability to take the kids for a quick visit to a local playground, store or beach during a work break really works wonders to disconnect while bonding and making memories together. Similarly, just being around my wife all the time is a type of quality time that's hard to get enough of in normal daily life.
Walking meetings on the beach: "working" doesn't get much better than this.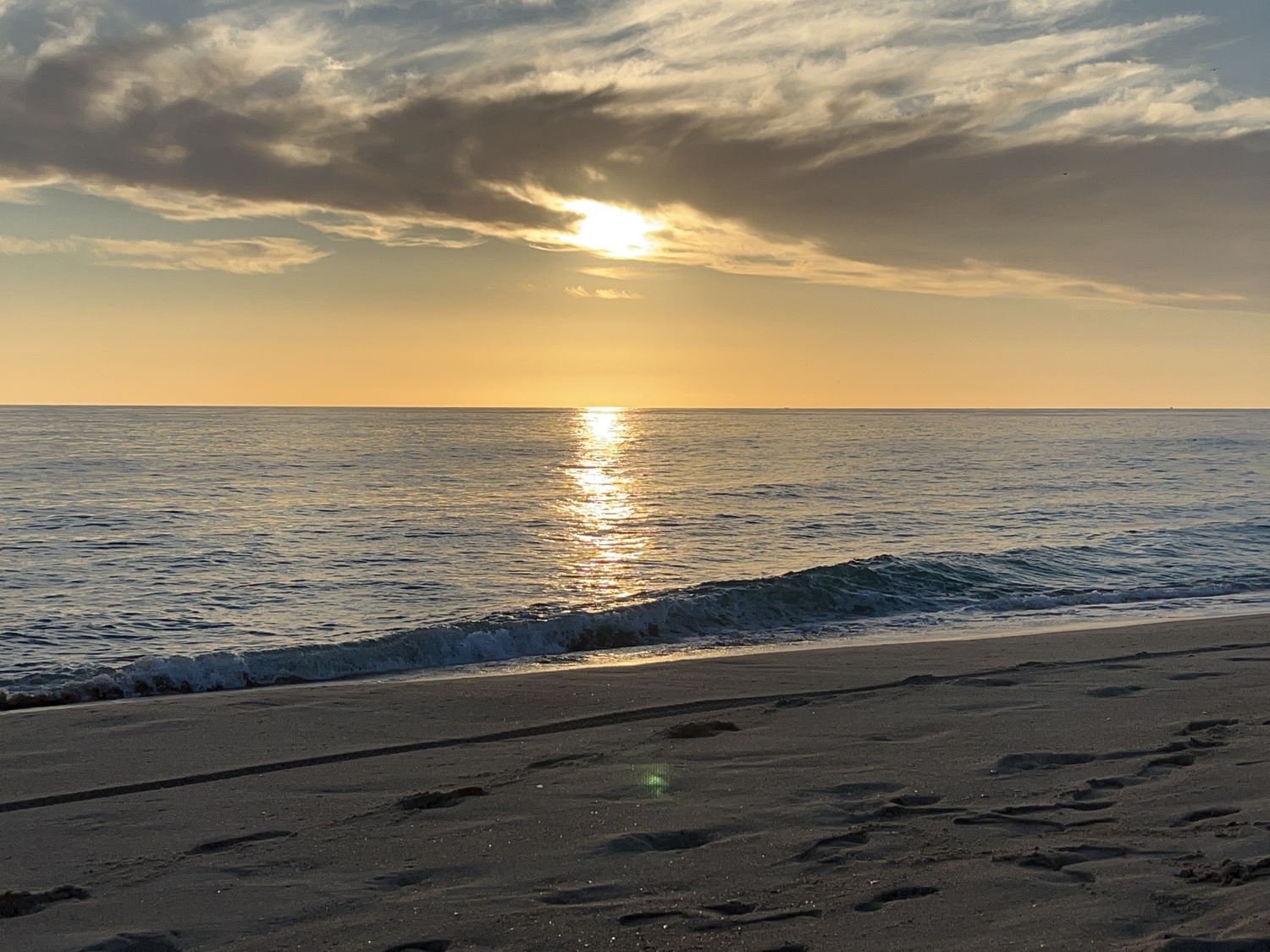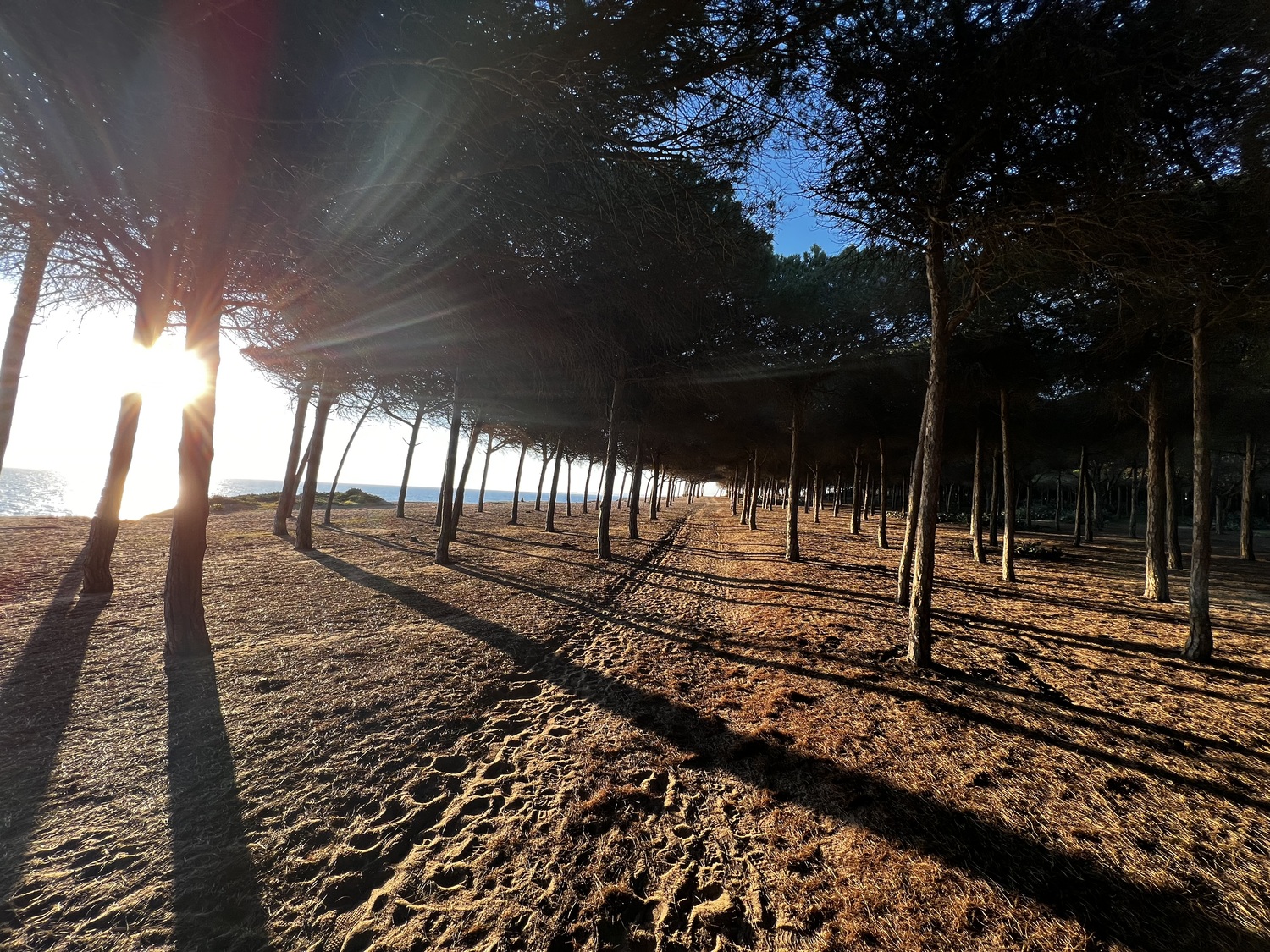 No rat-race: Not having to commute for childcare and my wife's work was liberating for the whole family. The distance also meant we had no social commitments during the weekends. This relief of a bunch of "have-to's" worked wonders to decompress and be more present in the moment. What was also amazing is how well-rested (no early morning rush!) and sick-free (no daycare/school germs!) the kids became and stayed - anecdotal proof that regular life puts significant strain on them. Something we had expected and was great to see confirmed.
Remote working: While I didn't expect any major issues working remotely - I still spent time up front optimizing our "mobile" remote working setup. Our AirBNB rental also explicitly listed being good for remote working which gave us confidence the internet would be fast (which was the case!).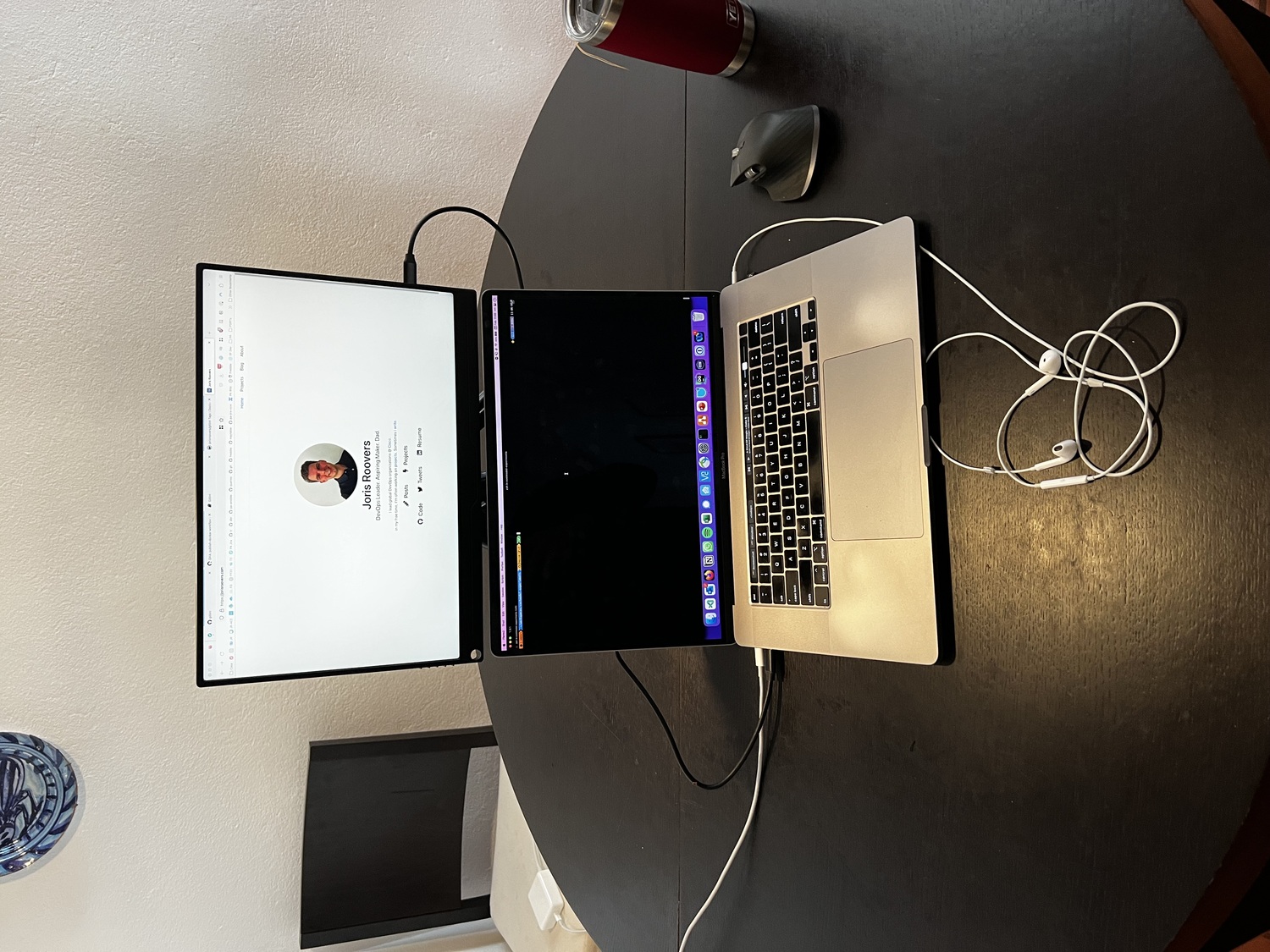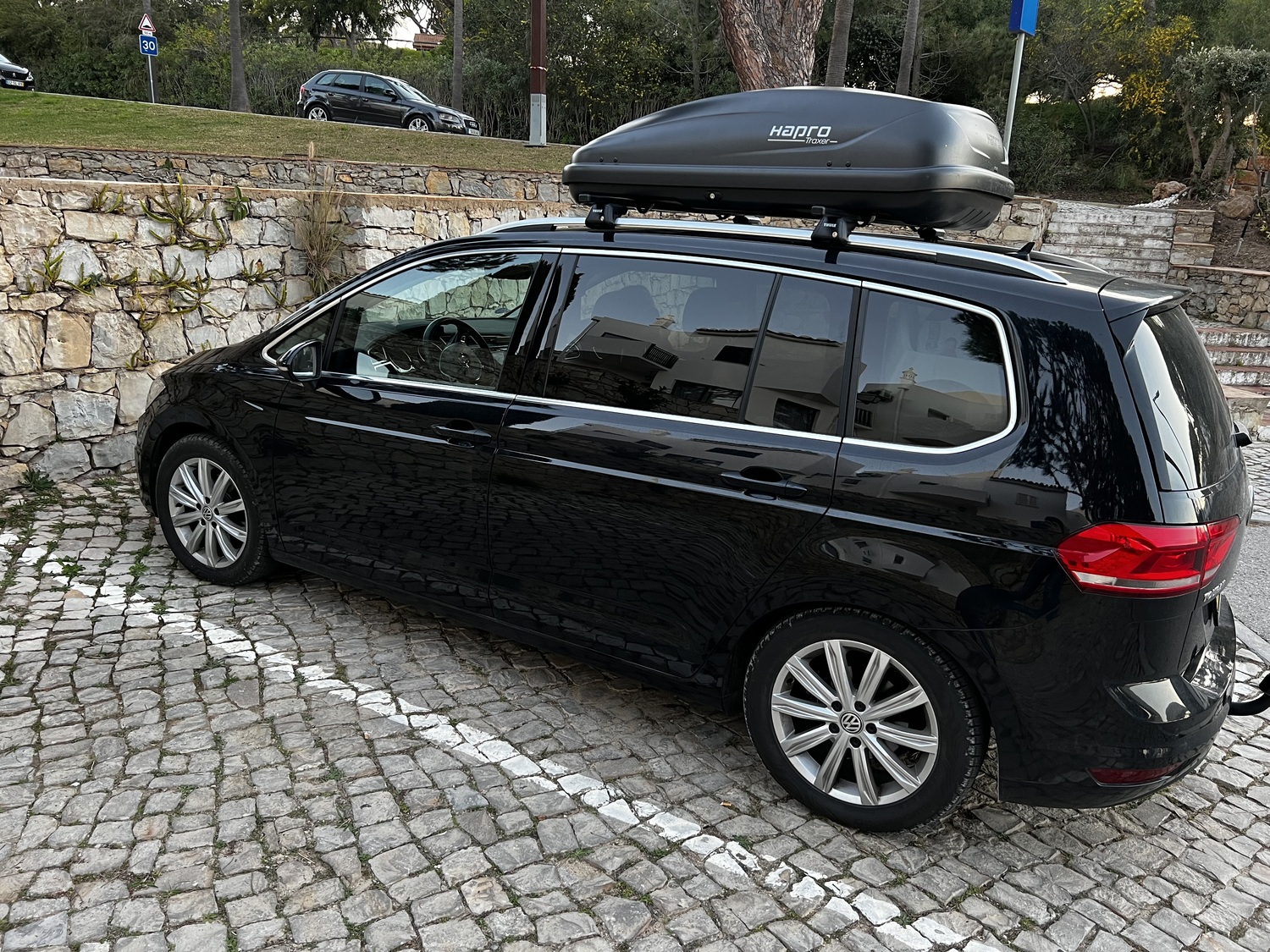 Personal development: I'm a big believer in becoming a little better every day. Going on adventures is a great way to stimulate this. Here's a few things I learned from this trip:

The ins and outs of driving a ~2000km+ trip (each way!) and using a car roofbox. First time driving in Spain and Portugal, getting a better idea of local geography and driving conditions.
Portugal: its history and culture.
Technology related to setting up my mobile network setup and preparing my home automation setup for a long period of absence.
The kids, especially our daugther (3.5y) learned so much from this trip: the existence of other countries, cultures, languages, food, supermarkets, etc.
That it's nice to have all the things we have at home, but that I don't miss most of it as long as I have my family and some personal belongings (mostly tech 📱💻) which fit in a weekend bag.
The bad (and ugly)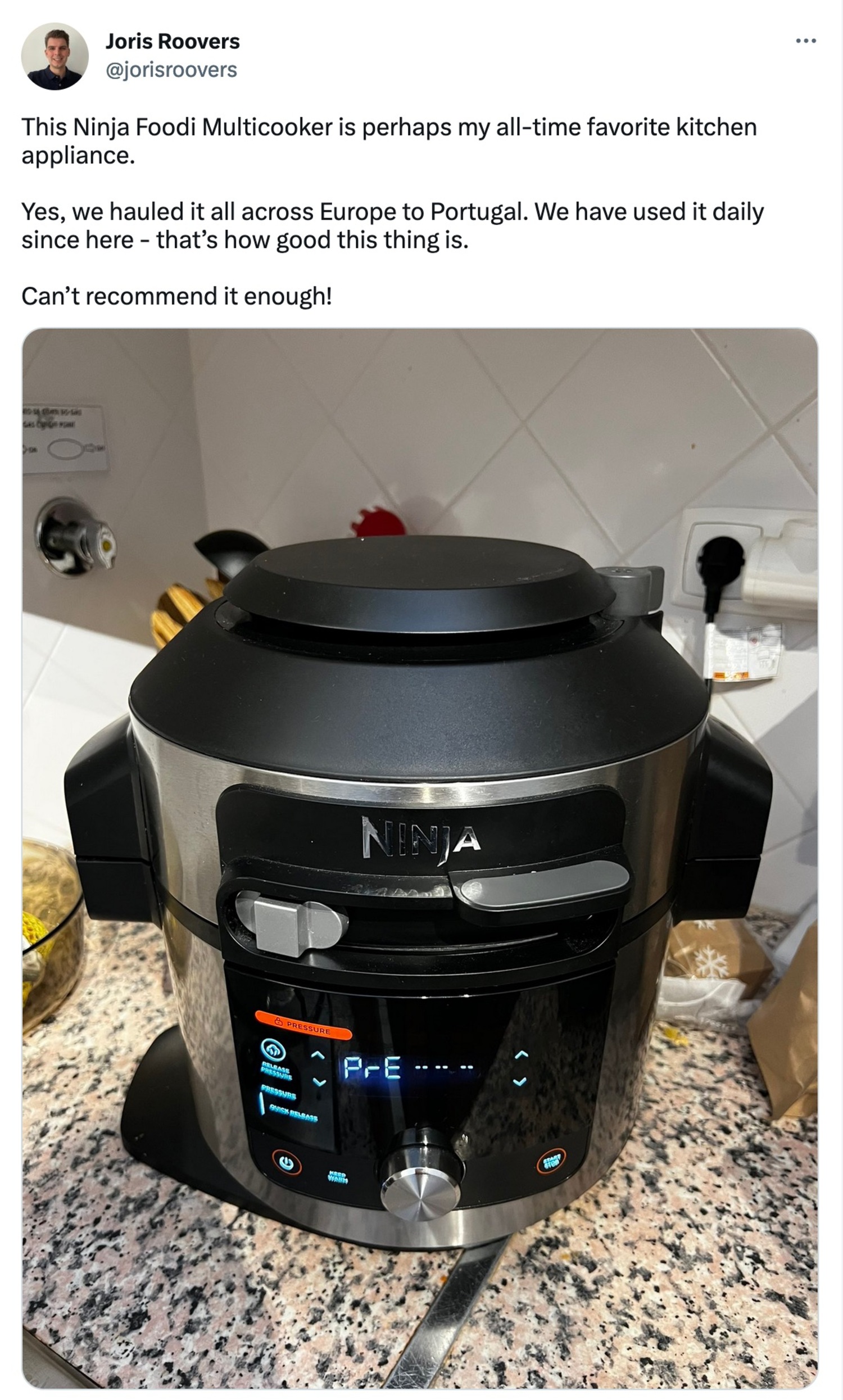 Journey: While the journey overall went well, there's still a few notes-to-self. Things that are common sense and I knew before but still managed to screw up:

Don't start at 4AM (even when going to bed really early the days prior) and ensure at least 12hrs of downtime in between driving days.
Eat healthy while en route: while there's plenty of road-side food choices these days, it's still easy to go for the fast and less healthy choices. I'm not even talking fastfood per se: on both legs of the journey, after a while my body started objecting to the overload of white bread (sandwiches, croissants) in combination with above average amounts of soda and caffeine.

Not a holiday: Contrary to first impressions, we were working from Portugal - not on a holiday. Consequently, life fell into a household pattern rather quickly. A different pattern from home, but a pattern nonetheless (working, laundry, cooking, cleaning, etc). Time for proper exploration was mostly limited to the weekends and young kids drastically affect how much you can do in a day. As a result, someone spending a single holiday week in Portugal might have experienced more than we did in an entire month. While we expected and were ok with this, we'll probably still take some more time off during our next adventure.

Working with kids: From the past, we knew that working with kids around all the time is difficult. We could make this work is because a) my wife only works half-time and b) us both having the flexibility of moving our working hours around as needed. While it's clear that a permanent working-with-kids-around arrangement wouldn't work for neither the kids nor us parents, for a fixed and purposeful period like this it was well worth it.
🤔 On keeping the kids busy: we very deliberately thought about mixing play with development time by carefully picking the toys we brought, involving the kids in daily household chores and regularly taking them outdoors to explore. Even at their young age, we found it really important that this was an equally valuable experience for the kids as it was for us.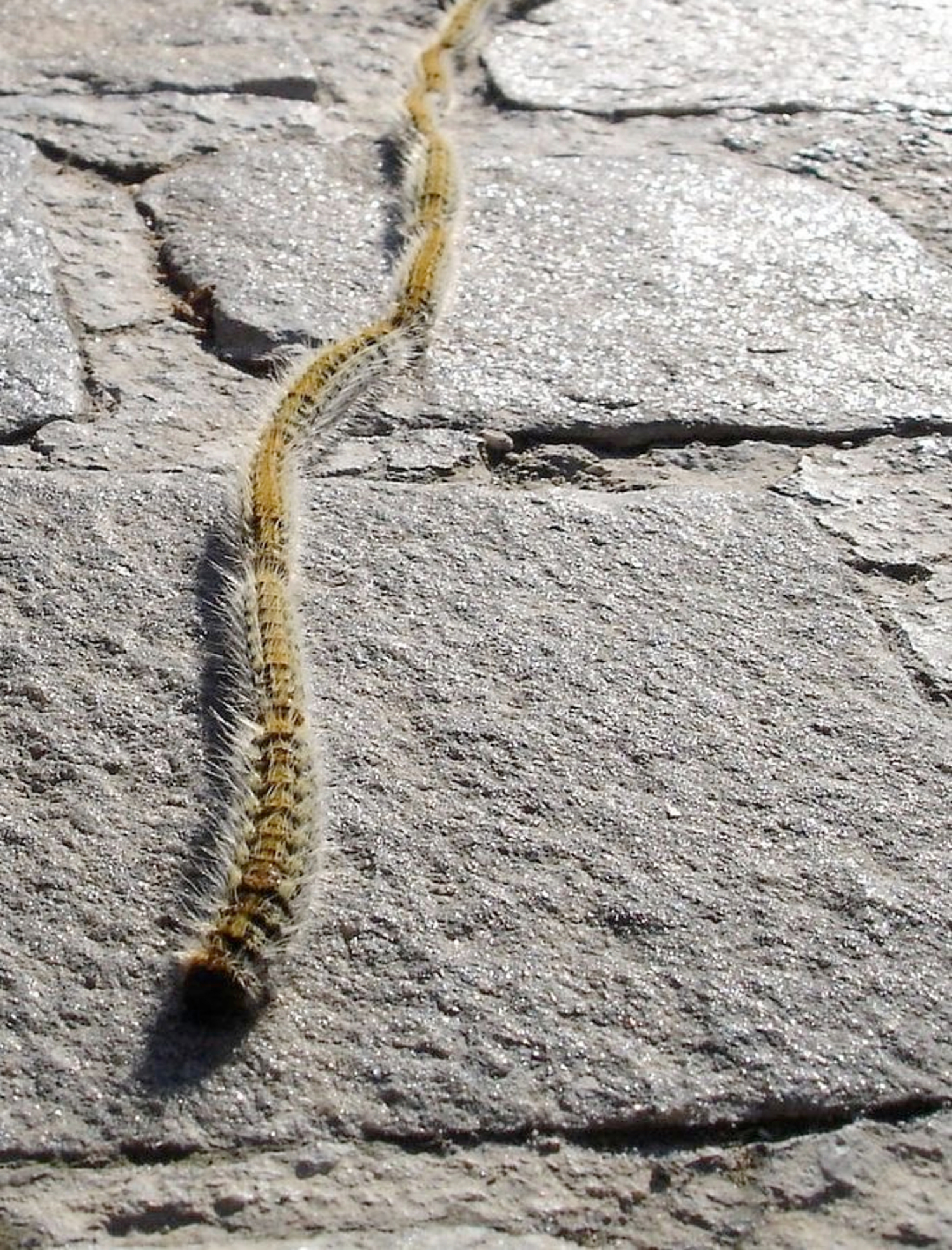 Minor accidents: We had a few cases of bad luck, testing our mental and emotional resilience in first 10 days:

My wife fell off some stairs while carrying our toddler son. We got really lucky that she only bruised her foot (my son was ok). This was pretty scary when it happened.
I spilled hot tea over my arm and got a pretty bad burn - minor scar for life.
The kids got a bad rash from the hairs of processionary caterpillars (common in Southern Portugal this time of year) which led to a doctor's visit. These caterpillar hairs can really dangerous if they get in your eyes or mouth, especially for young kids. All was well in the end - we again got lucky.
While these things can of course happen at home too, when you're travelling (especially with young kids), you're generally more vulnerable to "bad luck" and dealing with these situations can be extra taxing.

Family distance: We had a family situation for which it would've been better if we were at home to support. This sucked.
Cost
With the intention that this was an experiment we would probably want to repeat, we deliberately tried to be more frugal than if this were a holiday. We were looking to get an idea of what the experience was like at a cost point we could afford to do over.
Here's a breakdown of the costs.
| Item |  Cost (EUR) | Notes |
| --- | --- | --- |
| Portugal AirBNB Location | 1500 | 30 nights. We saved a lot of money by going off-season (huge discount) and picking a no-frills house. |
| Car Journey | 1200 | Covers the two-way journey. Includes fuel, toll roads and roadside food. Definitely cheaper than flights + month long family-sized car rental (+ child seat rental + fuel). |
| Transit AirBNB Locations | 400 | 4 nights total (3 on outward journey), 1 in return journey. |
| Car Roof Box | 550 | Includes roof bars. Reusable for future trips. |
| Mobile remote work setup | 400 | Mobile screen, GLINet mobile router, tripod and VESA mount. Reusable for future trips. |
| Miscellaneous extras | 250 | Kids toys, portable battery, guidebook, etc. Mostly reusable for future trips. |
| Reduced costs at home | - 300 | Lower energy bill, subscriptions/services on hold |
| TOTAL | 4000 | |
Other costs like groceries and weekend activities weren't noticeably different than at home.
While 4000 EUR is clearly still a large expense, it's actually quite reasonable (arguably "cheap") taken into account that we were away for an entire month with a family of 4 and drove as far as we did. Regardless, we're obviously privileged to be able to afford this.
Conclusion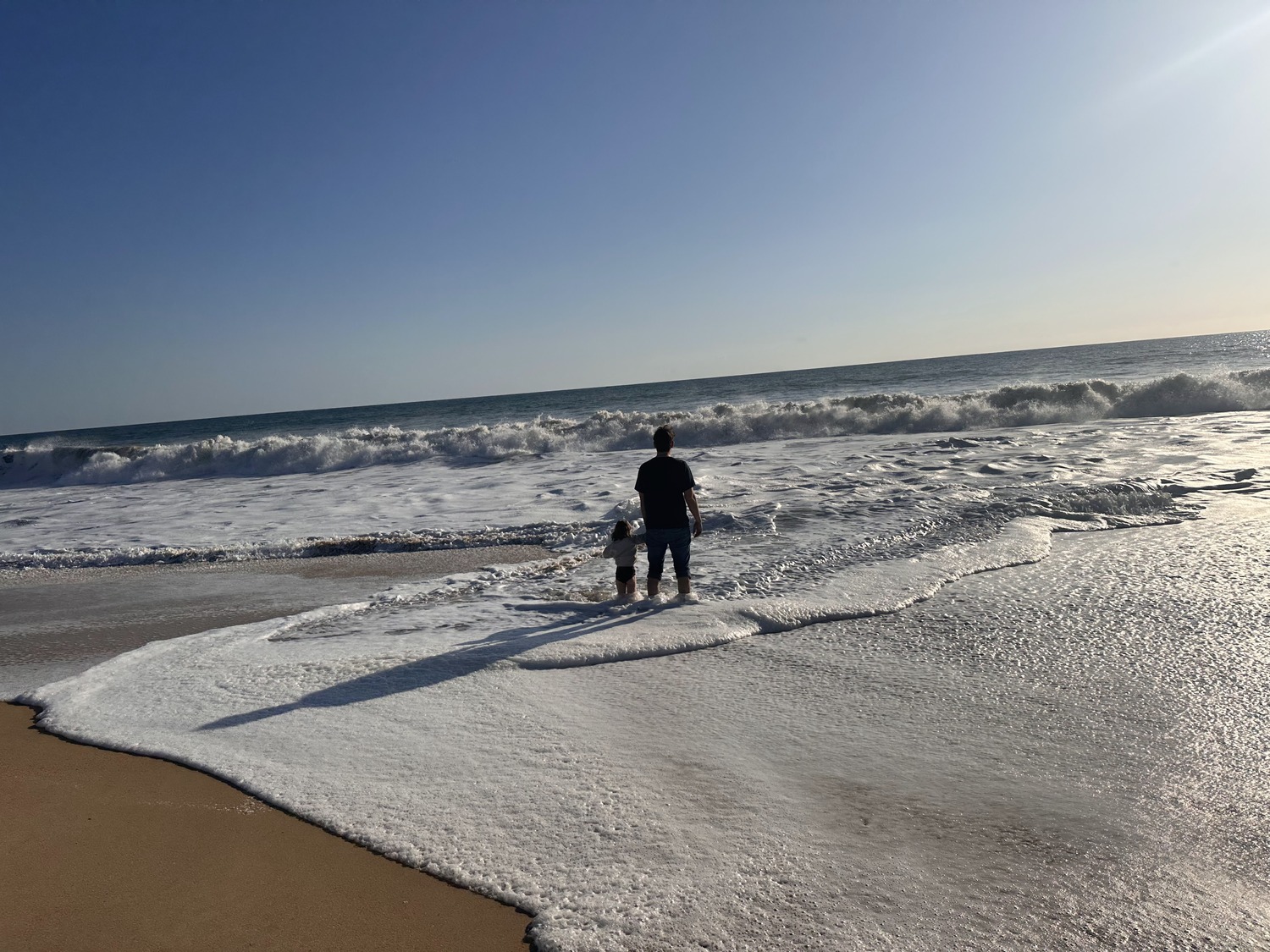 The initial idea of going to Portugal for a month came up during a brainstorming session with my wife on how to live more deliberately. Without overthinking, we decided to just book something and see how it would go.
We knew up front that the outcome would neither be "This was amazing, let's do it fulltime" nor "This sucked, let's never do it again", but somewhere in the middle.
Looking back at our experience now, I can confirm this is true - I hope this blogpost reflects that.
Yet, from the perspective of "escaping the rat race" and doing something different, this trip was undeniably a huge success.
So much so, that we're doing it over! Croatia, here we come! 🇭🇷